---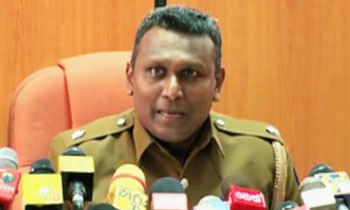 Police spokesman Ruwan Gunasekara said Police Chief Pujith Jayasundare was mulling legal action against a website that published defamatory remarks about him and a video clip depicting him threatening a minor employee of the Police department.
The video clip that went viral on social media websites took centre stage at the weekly Cabinet news briefing today.
The police spokesman tried his best to defend the Police Chief answering a barrage of questions from journalists.
He also said the IGP would be taking legal action against the website for distorting and publishing the visuals in a defamatory and malicious manner.
Journalist: Why did the IGP attack a lift operators without any provocation?
SP: No, no, he never attacked him, only questioned him.
J: The video shows the IGP holding the employee by his collar and nearly hitting him. What prompted the IGP to do that?
SP: The Police Headquarters has allocated a few minutes for meditation after the national anthem is sung and before starting our duties. This man has not done that.
J: For what purpose is meditation?
SP: For mental tranquility and discipline
J: Does it apply to all those at the Police HQ?
SP: Yes
J: In that case, is this the IGP maintains his mental tranquility and discipline?
There is laughter at this response.
J: What is this story involving an incidence of sexual harassment of a receptionist?
SP: I don't know really. Social media websites act in a malicious manner with vengeance. We are going to take legal action against this institution for defamation. There are 17 lawyers among police officers and they are reviewing this ugly episode and will take appropriate legal action.
J: A recent UN report has said police torture is widely prevalent in Sri Lankan police stations. This incident will reflect badly on Sri Lanka and vindicates what the UN report says.
SP: When the IGP was on his morning inspection round this employee was not there.
J: This minor employee has complained about other incidents of harassment against him also.
SP: I am not aware. There have been no complaints in this regard though he says so. (Sandun A Jayasekera)
Video by RM