---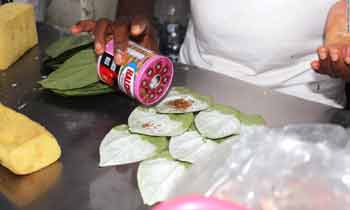 Using tobacco and arecanut in betel quids apart from smokeless Tobacco Products and mixtures that contain tobacco would be banned from today, Centre for Research in oral cancer Director Prof W.M. Tilakaratne said yesterday.
While addressing media at the Government Information Centre yesterday Prof. Tilakaratne said a gazette notification had been issued on September 1, 2016 in this regard and according to its update manufacturing all smokeless tobacco products, selling, keeping in possession and import would totally be prohibited.
"This law will be implemented further to banning tobacco products such as Babul, Pampara, Bita and etc in the country.
It was reported that the incidence of oral cancer among tobacco and arecanut chewers is five-fold compared to non-users of them. They are the major causes of oral disease, other systemic conditions, disability and death, according to reports.
"Arecanuts had been certified as the main cause to oral cancer by the reports prepared by the World Health Organisation (WHO). Therefore a Bill was passed in Parliament under which, the gazette notifications have been issued," Prof Tilakaratne said.
The Health Minister has also issued regulations prohibiting the manufacture, importation, and sale of e-cigarettes containing tobacco, and cigarettes that are flavoured, coloured, or sweetened under this law, the National Authority on Tobacco and Alcohol Act, in 2016. (Chaturanga Pradeep)