---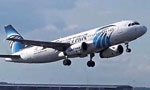 A massive search was under way Thursday for the wreckage of an EgyptAir plane that plunged into the Mediterranean with 66 people on board, in what the Egyptian authorities said may have been an act of terrorism.
Egypt's aviation minister said that while it was too soon to say why the Airbus A320 flying from Paris to Cairo had vanished from radar screens, a "terrorist" attack would be a more likely scenario than a technical failure.
The tragedy raised fears of a repeat of the bombing of a Russian passenger jet by the Islamic State (IS) jihadist group over Egypt last October that killed all 224 people on board.
The plane disappeared between the Greek islands and the Egyptian coast overnight, without its crew sending a distress signal.
Greek Defence Minister Panos Kammenos said the aircraft had swerved sharply twice in Egyptian airspace before plunging 22,000 feet (6,700 metres) and disappearing from radar screens.
Both Egypt and Greece dispatched aircraft and naval vessels on a major search mission. They were expected to be joined by French teams, while the US send a surveillance plane to help with the operation.
Egypt's President Abdel Fattah al-Sisi demanded an "intensified search" for the aircraft after reports that wreckage from the plane had been found were retracted.
EgyptAir initially said on its Twitter account that the Egyptian authorities had recovered wreckage from the missing aircraft No. MS 804 near Greece's Karpathos Island.
But the head of the Greek air safety authority, Athanasios Binis, told AFP that debris found close to the area where the jet went down did "not come from a plane", a finding he said was confirmed by his Egyptian counterpart.
EgyptAir Holding Company vice president Ahmed Adel then corrected his company's statement, telling CNN that the debris that was spotted was "not part of our plane".
French President Francois Hollande said the plane had "crashed", as authorities in both Paris and Cairo opened investigations.
In the United States, White House spokesman Josh Earnest said "it's too early to definitively say what may have caused this disaster".
Egypt's Aviation Minister Sherif Fathy said he was unable to "deny the hypothesis of a terrorist attack or something technical".
The airline said 15 French citizens were among the 26 foreign passengers on the plane, who also included a Briton and at least one Canadian.
Both France and Egypt have come under attack by IS jihadists in the past year, and Hollande promised a comprehensive probe into the cause of the crash as suspicions swiftly focused on a bomb.
"Whether it was an accident or another hypothesis that everyone has on their mind -- a terrorist hypothesis... at this stage we must focus on our solidarity with the families and the search for the causes of the catastrophe," he said. (AFP)