---
Govt. revenue rises by 43.5% in the first eight months to Rs.1,826.62bn
Budget deficit expands Rs.1,470.66bn from Rs.1,112.49bnYoY
Govt. expects overall deficit to reach Rs.2,402bn or 8.5% of GDP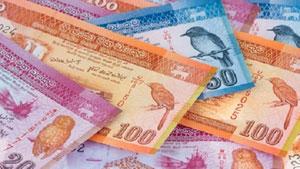 The government's revenue in the first eight months saw a robust 43.5 percent increase, but the budget deficit continued to stretch higher, forcing the government to double down on the revenue based fiscal consolidation path it subscribed to with the International Monetary Fund (IMF) by raising the Value-Added Tax (TAX) from next year.
The IMF among other things cited the limited progress on the revenue front for holding back the release of the second programme tranche when it concluded its first programme review in September.
The government has announced a hike in VAT from its current 15 percent to 18 percent effective from next year, which came outside the budget presented last week, and announced its plans to remove all VAT exemption barring for health, education and some food items.
According to the latest data released by the Treasury last week, the government has collected Rs.1,826.62 billion in revenues for the eight months through August compared to Rs.1,272.78 billion in the same period last year.
All the taxes raised and imposed afresh had raked in Rs.1,661.15 billion, up 47.8 percent from the same period in 2022.
Sri Lanka under the IMF programme raised the corporate income tax, personal income tax and VAT and re-imposed taxes such as withholding tax and brought in new taxes such as Social Security Contribution Levy among other taxes to re-fill its coffers which went virtually empty.
But the failure to deliver the expected revenue targets reflects that a contracting economy could not deliver on tax revenue goals no matter how much the rates are raised, instead they start to weigh on the economy's growth.
The budget presented last week for next year projected a 45 percent growth in revenue to Rs.4,127 billion, bulk of which is estimated to come from the VAT increase and of course the growth anticipated in the economy with the normalising of imports.
Meanwhile, the expenditure rose by 38.2 percent to Rs. 3,297.20 billion in the first eight months.
The recurrent expenditure rose by 44.0 percent to Rs. 2,941 billion while the capital expenditure and lending minus repayments rose by 3.5 percent to Rs.355.6 billion.
Amid these conditions, the budget deficit for the eight months rose to Rs.1,470.66 billion from Rs.1,112.49 billion in the year earlier period.
The revised budget estimates for 2023 showed that the government expects the overall deficit to reach Rs.2,402.0 billion or 8.5 percent of Gross Domestic Product and Rs.2,401.0 billion or 7.6 percent of GDP in 2024 barring the Rs.450 billion earmarked for State bank recapitalisation.