---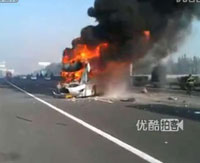 A North Korean diplomat who killed two Chinese citizens in a car accident has paid compensation to the families of the dead, China's foreign ministry told AFP on Tuesday.
The unnamed North Korean was involved in a traffic accident with a taxi in the early hours of February 10 in border town of Dandong, according to a fax from the foreign ministry sent in response to questions from AFP.
The taxi driver and one passenger were killed and an official investigation is under way, the ministry said. The amount of compensation was not specified.