---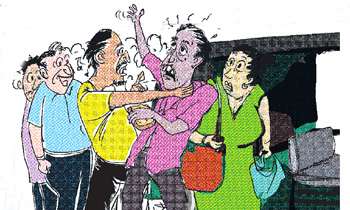 The story is about a person who did not have the patience to receive his friend's hospitality.
His best friend from Galle arrived in Kandy by train to watch the test match played at Pallekele.
On arrival, his Kandyan friend could not resist the idea of accompanying him in a trishaw to his house to spend the day.
On their way, the friends had one for the road as it was taboo at his residence. While on their way, the Kandyan was toying with the idea to serve his buddy lavishly and stopped the trishaw by the roadside to make purchases for the welcome party. While he went shopping, his Galle friend who was advised to stay in the trishaw got tempted to tour the city.
Later, he had returned but got into a parked trishaw mistaking it for the one they arrived in. Seeing all the vegetables, fruits, rice, curries and also a small cake inside the trishaw, our friend was overjoyed. Unable to control himself with a luscious cake besides him, he decided to go for a nib and was delighted and began to eat it. Suddenly, he was disturbed by the scream of a woman who got into the driver's seat. She shouted, "thief!" A crowd including two policemen who were on duty rushed to the scene.
With all the commotion taking place, the Kandy friend returned and started looking for his buddy, only to find the situation he has got himself into. (Dammika Gunawardene)