---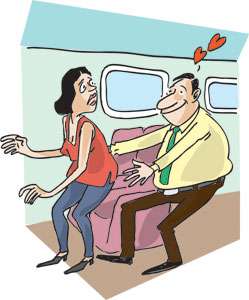 An intoxicated businessman who was in Business Class onboard a Sri Lankan flight returning from Dubai to Colombo had allegedly tried to molest an Air Hostess on the flight. He was taken into custody by the Airport Police, the police headquarters revealed.
The suspect has been identified as 49-year-old businessman who is a resident of
Mount Lavinia.
Police sources revealed that the suspect had initially requested for high priced liquor and an argument had arisen between him and the air hostess from whom he requested the liquor. He had used abusive language on her causing her to ask another air hostess to handle the passenger.
When the 'replacement' air hostess brought him the foreign liquor that he wanted he had attempted to get amorous with her after pulling her by her by the hand.
She had managed to break free from his hold and had then complained to the security officers who had arrested him and handed the drunk businessman over to the Airport Police on arrival. (Indika Ramanayake)