---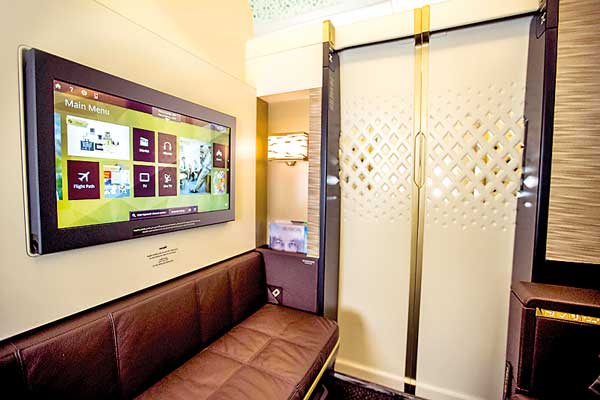 Etihad Airways has been presented with the award for 'Best IFE/Connectivity Launch by an Airline 2016' by leading industry magazine PAX International. The awards ceremony took place at the Aircraft Interiors Expo held in Hamburg, Germany.

The airline won the award based on the high levels of technology and innovation of its E-BOX inflight entertainment and connectivity (IFEC) system and the content offered on its global route network. The accolade adds to a string of awards collected by the airline over the past year for its superior IFEC services, including Inflight magazine's Airline of the Year award 2015, PAX International magazine's award for Best New IFE/Connectivity Launch 2015, Inflight magazine's Best Airline In-Flight Entertainment and Connectivity (IFEC) provider for the Middle East 2016, and the World Travel Award for Leading Airline Inflight Entertainment.

Shane O'Hare, Etihad Airways' Senior Vice President Marketing, said: "This award, voted by PAX International's readers over a six-month period, is recognition of Etihad Airways' commitment to ensure our guests continue to enjoy cutting-edge IFE technology and the latest communications solutions on all our aircraft."
Etihad Airways operates a fully connected fleet of modern Airbus and Boeing long-haul wide-body and short-haul narrow-body aircraft.

The airline's Live TV service is available on 50 wide-body aircraft, bringing quality content from seven television channels including BBC World News, Sport 24 and CNN, the top three most viewed channels, and CNBC, euronews, Japan's NHK World Premium and Sky News Arabia.
Etihad Airways has also introduced its latest next-generation E-BOX personal entertainment offering using the Panasonic eX3 interactive system, and was the first airline to install the cutting-edge IFE system on an Airbus A380. All A380s and Boeing 787s in the fleet will be equipped with Panasonic eX3. The system provides hundreds of hours of on-demand entertainment viewed on high definition, capacitive touch, in-seat monitors ranging from 11.1 inches in Economy Class, 18 inches in Business Class, 24 inches in First Class and 32 inches in The Residence.

Other enhanced features include video touch screen handsets, improved gaming, shopping and entertainment solutions, 3D moving maps, an Aeroreader document viewer and a new Graphical User Interface (GUI) for younger guests.

Etihad Airways continues to pioneer the use of new and innovative products in its mission to reimagine the modern flying experience. The airline's acclaimed A380 flagship fleet features The Residence and First Apartments, a dedicated team of in-flight hospitality specialists including Butlers trained by the legendary Savoy hotel in London, qualified Inflight Chefs in First Class, Food and Beverage Managers in Business Class, and Norland College trained Flying Nannies. A collection of signature lounges is operated worldwide, providing the levels of service found at the world's best hotels. Etihad Airways' investment in cutting edge IFE and connectivity systems is a key component of this mission.