---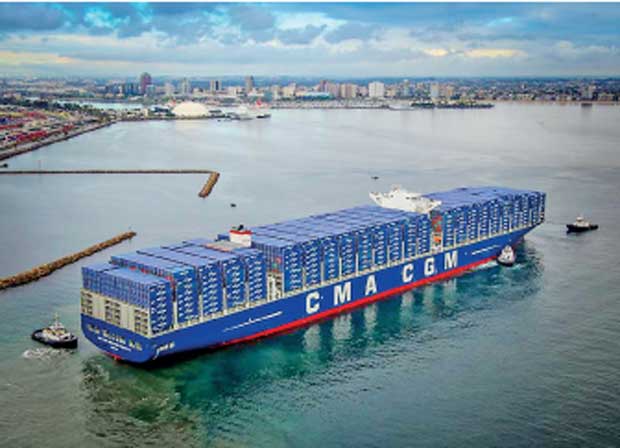 REUTERS: CMA CGM, the world's third-largest container shipping firm, said it expected operating profits to improve further in the second half as the market continues to recover, and confirmed an order for nine giant vessels.

The announcements by French-based CMA CGM underlined a recovery in the industry this year after a prolonged downturn that sparked a series of consolidation deals.

In a second-quarter results statement on Friday, CMA CGM said its board had approved an order for nine container ships, each with a capacity of 22,000 20-foot equivalent unit containers (TEU), which will start service from the end of 2019.

China Daily reported last month that CMA CGM was planning the order for the ships, which would be among the largest ever.

Privately owned CMA CGM said the order would help it cut transport costs, particularly on Asia-Europe routes, and allow it to keep pace with market growth.

The firm had previously put on hold new ship orders and delayed the delivery of previous deals as it faced tough market conditions in recent years.

Other container shipping lines have also pointed to an upswing in the sector this year, with market leader Maersk Line saying last month that fundamentals were at their strongest since 2010.

CMA CGM said a recent upward trend in freight rates had led it to expect higher second-half operating profits compared with the first half, excluding significant variations in fuel costs and exchange rates.
CMA CGM reported a core operating profit of $472 million for the second quarter, up from $252 million in the first quarter and against an $81 million loss in the year-earlier period.

Sales rose by 57 percent from a year earlier to $5.55 billion, supported by a 33 percent increase in shipped volumes and a 12.5 percent rise in average revenue per container.

Core operating margin reached 8.9 percent, up from 5.5 percent in the first quarter and minus 2.3 percent a year earlier.

APL, which was consolidated in June 2016 in CMA CGM's biggest ever acquisition, also remained profitable in the second quarter, with a $137 million contribution to group operating profit.

CMA CGM said its unit costs were stable in the second quarter compared with a year earlier as it offset a near-60 percent rise in fuel costs with measures under an ongoing savings plan and gains from the integration of APL.