---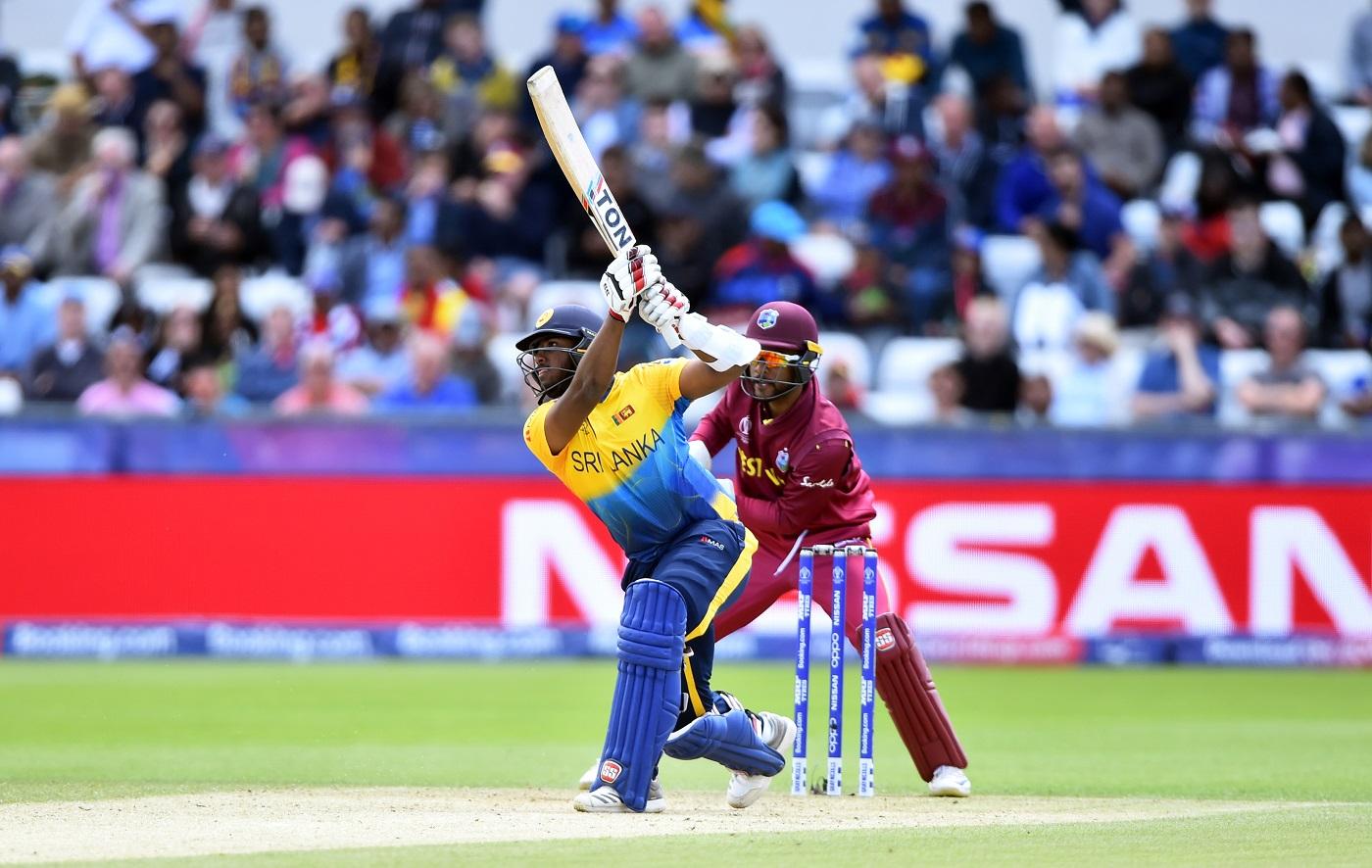 by Champika Fernando in Durham
Two young batting talents—Avishka Fernando and Nicholas Pooran lit up the Sri Lanka vs West Indies World Cup dead-rubber at the Riverside Durham cricket stadium with some scintillating batting performances as Sri Lanka survived a high-scoring thriller to win by 23 runs.
The 21-year-old Avishka Fernando was fluent in his maiden century—104 off 103 ball and built up partnerships to lead Sri Lanka to a commanding 338 for six before the 23-year-old West Indies middle-order vat Pooran almost took them over the line with a swashbuckling 118 off 103 balls. His maiden knock had 11 boundaries and four delightful sixes.
West Indies needing 31 from three overs with three wickets in hand to pull off what would have been the highest successful run chase at a World Cup were threatening to take the game away from the Sri Lankans when Angelo Mathews made a match-winning breakthrough with his first ball in seven months.
Pooran who was striking the ball well, flung his hands wildly at Mathew's first delivery, edging it through to Kusal Perera behind the stumps. Pooran's wicket all but ended West Indies great fight back. This was Mathew's first ball of the World Cup and it was his first ball in international cricket since December 2018
Pooran involved in three rapid partnerships with skipper Jason Holder, Carlos Brathwaite and Fabian Allen but it was the 83-run stand for the seventh wicket between Allen that put Sri Lanka under tremendous pressure at the tail-end of the match. Allen scored a blistering 51 off 32 balls with seven boundaries and a six, but was senselessly run out with 56 runs to get off 35 balls. He was caught ball-watching after flicking one to fine leg as Pooran almost ran towards the striker's end. Allen set off in a vain attempt to reach the non-striker's end, ending his blazing knock.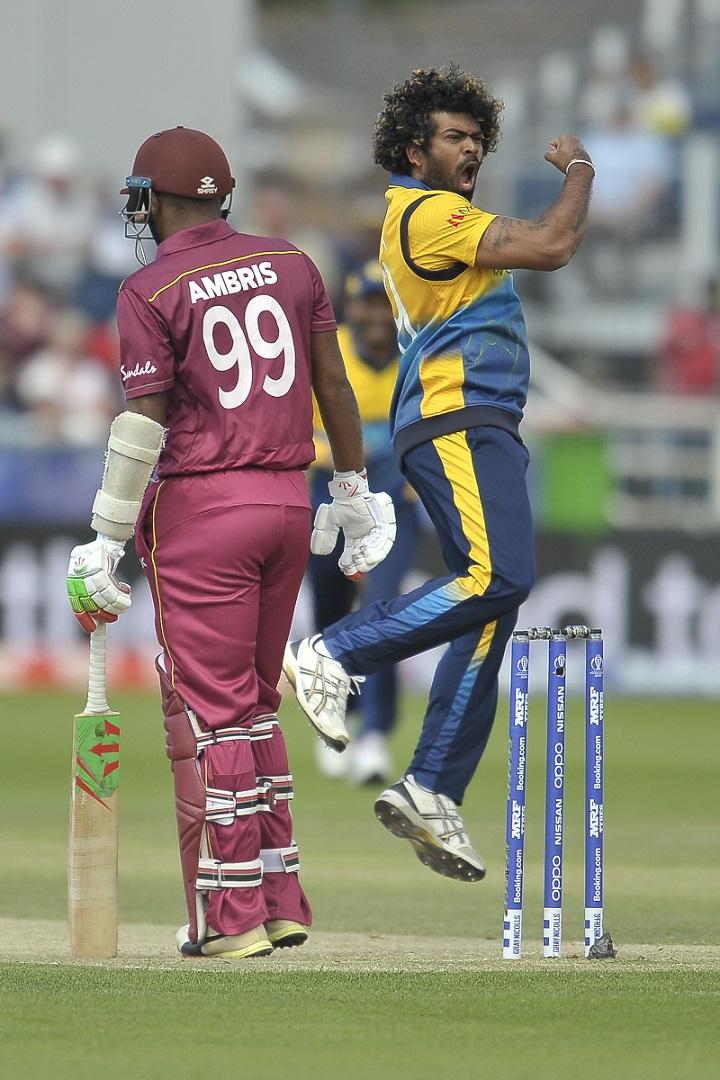 West Indies chase was derailed by in-form Lasith Malinga who picked the wickets of opener Sunil Ambris (caught behind when he attempted to pull off a bouncer) and then elegant Shai Hope (inside edge into his stumps) early in the chase but managed to push it to the end with some impressive power-hitting. Malinga was once again the pick of the bowler claiming three wickets in the match and had the ground fielding been better, he should have finished with a five wicket haul. Kusal Mendis dropped Shimron Hetmyer at slips early in the innings and then substitute fielder Thisara Perera dropped Pooran at long on when the batsman was on 108.
But it was Avishka Fernando the protagonist of Sri Lanka's victory. The win is however important to boost their confidence ahead of their final group game against India on Saturday. Sri Lanka are on their way out just as their opponent West Indies after England recorded their fifth win on Sunday beating India.
After a positive start given by Dimuth Karunaratne and Kusal Janith Perera who shared an opening stand of 93 runs off 92 balls, young Fernando, playing only his third World Cup game produced a master-class of an inning, raising to his maiden international hundred. An inning of pure class and aggression, the boy from Moratuwa played some delightful strokes much to the delight of the home supporters.
Fernando who missed a maiden half century by a run against Australia two weeks ago, reached his 50 off 57 balls with a drive to the long on fence and continued to dominate the West Indian bowling to reach the milestone and more importantly to put Sri Lanka in a strong position in the match. His innings had nine boundaries and two sixes including a glorious pull over.
The 21-year-old celebrated the milestone with a clean swipe over midwicket which has been his favorite area to score in the match, with 29 of his 104 runs coming in the region. He dealt the West Indian seamers with little respect hitting nine boundaries and two sixes including a delightful pull over midwicket boundary.
Sri Lanka's total was powered by an impressive batting display, amply helped by poor effort by the West Indians in the middle. Kusal Perera scored 64 before he ran himself out after getting a life three balls when Nicholas Pooran dropped a sitter at deep midwicket. Dimuth made 32 runs in a rapid opening stand while there were decent contributions from Angelo Mathews (26), Kusal Mendis (39) and Lahiru Thirimanne (45 not out) as Sri Lanka put up a formidable score on the board.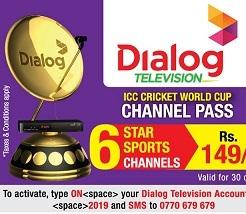 Scorecard
Sri Lanka
D. Karunarathne c Hope b Holder 32
K.Perera run out (Cottrell /Brathwaite) 64
A.Fernando C Allen b Cottell 104
K.Mendis C&B Allen 39
A.Mathews b Holder 26
L.Thirimanne not out 45
I.Udana c Holder b Thomas 03
D.De Silva not out 06
Extras (b 4, lb 5, nb 5, w 5) 19
Total (for six wickets in 50 overs) 338
Did not bat : J.Vandersay , K.Rajitha , L.Malinga
Fall of wicket 1-93, 2-104, 3-189,4-247, 5-314, 6-327
Bowling : SS Cottrell 10-0-69-1, O.Thomas 10-1-58-1 , S. Gabriel 5-0-46-0 , J.Holder 10-0-59-2, C.Brathwaite 7-0-53-0 , A.Allen 8-0-44-1
West Indies
C. Gayle c Vandersay b Rajitha 35
A.Ambris c K.Petera b Malinga 05
S.Hope b Malinga 05
S.Hetmyer run out (de silva ) 29
N.Pooran c Perera b Mathews 118
J.Holder c sub (J Mendis) b Vandersay 26
C.Brathwaite run out (I Udana) 08
F.Allen run out (Rajitha/Udana) 51
SS Cottrel Not out 07
O.Thomas lbw Malinga 01
S.Gabriel not out 03
Extras (b 3, lb 2, nb 2, w 20)
Total (For 09 wickets in 50 overs) 315
Fall of wicket: 1-12, 2-22, 3-71, 4-84, 5-145 , 6- 199, 7-282, 8-308, 9-311
Bowling : ( SL Malinga 10-0-55-3 , D.de Silva 10-0-49-0 , I.Udana10-0-67-0 , K.Rajitha , 10-0-76-1, J.Vandersay 7-0-50-1, D.Karunarathne 1-0-7-0, A.Mathews 2-0-6-1)