---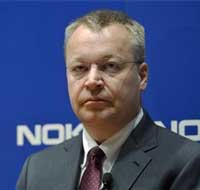 Struggling cellphone maker Nokia has no plans to abandon its Windows platform for smartphones and will launch its new Windows Phone 8 device soon, Chief Executive Stephen Elop said on Tuesday.
"In today's war ... (between) Android, Apple and Windows, we are very clear, we are fighting that with the Windows phone," Elop told reporters.
Nokia, the world's second-largest cellphone maker, is fighting for survival after Apple and Samsung gained dominance in the smartphone market.
(Reporting by Balazs Koranyi; Editing by David Holmes)

(Source : Reuters)