---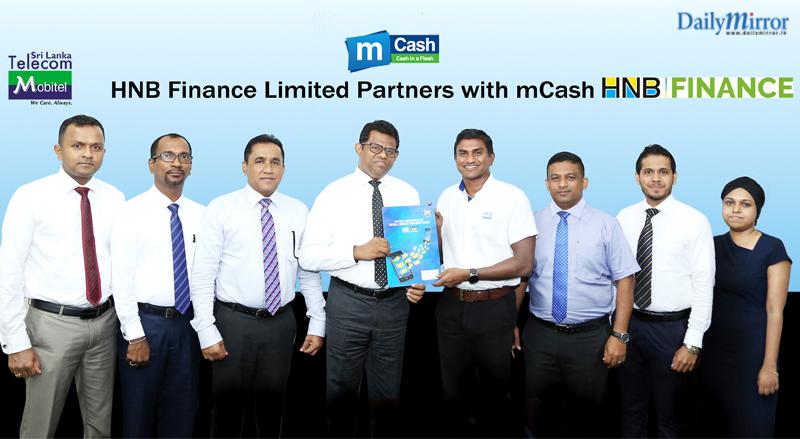 (middle) Exchanging of the partnership agreement between HNB Finance MD/CEO Chaminda Prabhath and Mobitel Senior General Manager Marketing Isuru Dissanayake. Also present were (from left) HNB Finance DGM Business Padmasiri Dayawansa, HNB Finance AGM – CIO Pradeepa Dias, HNB Finance Head of BSD Manjula Munasinghe, Mobitel General Manager – Mobile Financial Services Kalhara Gamage, HNB Finance Manager - Product Development Suwan Fernando and Mobitel Product Executive - Mobile Financial Services Thilakeswary Yogeswaran
Sri Lanka's National Mobile Service Provider, Mobitel, has joined hands with HNB Finance to enable the finance company's customers to benefit from its mCash Biller sharing solution. As a result of this strategic partnership, HNB Finance will facilitate customers to make Mobile Reload, DATA Reload, Utility Bill Payments, Insurance Payments through HNB Finance Field Staff or Branches using the mCash billing platform, thus offering additional convenience. HNB Finance will therefore allow customers to make payments on the go and at the place and time of their choosing. Launched by Mobitel, mCash is one of the leading Mobile Financial Services Platform in the country, which has forever transformed the way Sri Lanka conducts its financial transactions.
Established in 2000, HNB Finance Limited is licensed as a registered Finance Company by the Monetary Board of the Central Bank of Sri Lanka. Maintaining an extensive island-wide presence across 48 branches and 21 service Centers with the power of Hatton National Bank's 650 ATM machines, HNB Finance has over the recent past expanded into new fields of business and now offers Small and Medium Enterprise (SME) Loans in addition to savings, gold loans, fixed deposits facilities and leasing products.
mCash is a Mobile Wallet conceptualized by the National Mobile Service Provider, Mobitel and approved by the Central Bank of Sri Lanka which was launched in November 2013 capitalizing the telecommunication infra-structure to conveniently, instantly & securely enable financial transactions by using mobile devices. Mobitel embarked on the journey of providing financial services in the country allowing the entire financial industry to benefit from its core competitive advantages such as the reach to Customers and the distribution network that has spread throughout the country enabling digital financial inclusion to every Sri Lankan. mCash B2B Solutions are now wide spread across to over 20,000 Locations island-wide including Banking & Financial Institutes, Leading Supermarkets and Mobitel Retailers.