---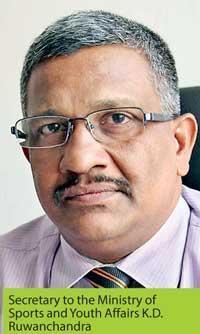 By Harsha Amarasinghe
In light of the shocking match fixing allegations by former Minister of Sports Mahindananda Aluthgamage, the Ministry of Sports has launched a 'special investigation.'

Secretary to the Ministry of Sports and Youth Affairs K.D. Ruwanchandra speaking to the stated that a special investigation will be launched on this matter.

"As the Sports Ministry it's our responsibility to look into matters of this magnitude very seriously and under the instructions of the Sports Minister a special investigation will be carried out on this statement," Ruwanchandra
told .

The Secretary further revealed that a special unit was established specifically to investigate issues in sports under the Sports Law No. 24 of 2019.

"There is a special unit in the Sports Ministry which consists of officers from Sri Lanka Police Department and they will carry out an independent investigation about this," added Ruwanchandra.

Aluthgamage, in an interview with a private television station, stunned the cricket fraternity of Sri Lanka claiming that the 2011 Cricket World Cup final, between Sri Lanka and India, was fixed.

"The 2011 Cricket World Cup final was fixed. I stand by what I say. It took place when I was the Minister of Sports. However, I do not wish to expose details for the sake of the country. The game against India in 2011, the game we could have won, was fixed. I say this with a responsibility and I can come forward for a debate. The people are concerned about it. I would not involve the cricketers in this," Aluthgamage said.

The controversial statement from the former Minister has already come under heavy criticism from a number of cricketers including the captain of the national team at the time Kumar Sangakkara.

"He needs to take his "evidence" to the ICC and the Anti corruption and Security Unit so the claims can be investigated thoroughly," Sangakkara posted on twitter following another tweet by Mahela Jayawardane who had claimed "Is the elections around the corner. Looks like the circus has started names and evidence?"
As the Sports Ministry it's our responsibility to look into matters of this magnitude very seriously and under the instructions of the Sports Minister a special investigation will be carried out on this statement