---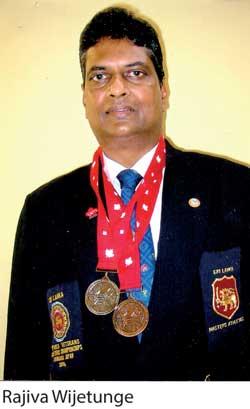 By Susil Premalal
Most school cricketers in the past displayed their immense talent and skill by not only playing cricket but engaging in other sports as well, according to Rajiva Wijetunge, a former Royal College cricketer who played in the latter half of the 1970s decade.

Although most school cricketers are focused on cricket alone, some lack discipline, respect and strong character which other sports inculcate in players, said Wijetunge who excelled in athletics and table tennis apart from cricket, and later distinguished as an administrator in several national sports bodies.

"In the 1970s, school cricketers took part in other sports. But now the cricketers play only cricket as coaches do not encourage cricketers to get involved in other sports."

"Those days, cricketers were full of confidence when they played cricket because they had played other sports. But now the school cricketers are nervous and their performances are affected," said Wijetunge who featured in the Royal-Thomian Centenary encounter in 1979.

Wijetunge represented Colombo Cricket Club (CCC) which won the P. Sara Trophy in 1979/80 and captained the Nomads Under-23 Cricket Team in 1982.

Wijetunge feels any sportsman or sports woman who has done athletics which is the mother of all sports, will be at an advantage when competing in other sports.

"Most cricketers around the world have also participated in either rugby, golf, football, swimming or tennis," he said.

"Some of the most outstanding cricketers like Kumar Sangakkara, Mahela Jayawardene and Sanath Jayasuriya have shown a liking for rugger, golf, football or tennis apart from cricket.

"Since I played table tennis and did athletics apart from cricket, it improved my self-confidence."
The Royal-Thomian Big Match attracts a crowd of about 15,000 to 20,000. When you come out to bat or bowl in the Big Match, you are fully excited as a schoolboy."

"But if you have done other sports, I can tell from my experience that you can overcome nerves," concluded Wijetunge.