---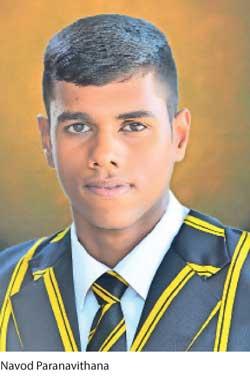 By M. Shamil Amit
Eighteen-year-old Navod Paranavithana is one of the most successful schoolboy cricketers produced by Mahinda College Galle, having shown his capabilities since he began his cricket career at the tender age of ten years representing Mahinda in the Under 13 age group.

Paranavithana initially was playing football for his alma mater before he was encouraged to shift to the game of cricket by his elder brother Binod with his first coach being the well-known Lucky Arambewela.
Since then, he has not looked back, having gone a long way and laid the foundation for a bright future, undoubtedly a future prospect and a star in the making.

He has been a prolific batsman in all age groups – Under 13, 15, 17 and 19 – having led the senior side last year and representing the Sri Lanka national youth team.

The icing on the cake in the left-handed batsman's school cricket career was when he slammed a mammoth 409 runs in just 327 balls inclusive of 39 boundaries and 19 sixes against Dharmasoka MV Ambalangoda which saw Mahinda also post a massive 679 runs, both records in school cricket history.

However,being drafted into the Sri Lanka U19 team for the tours of Bangladesh, West Indies and the ICC U19 World Cup in South Africa, he was able to represent his school in only six inter-school matches making 664 runs.
In the early part of his school cricket career Paranavithana, whilst playing in the Under 13 and Under 15 teams, had the honour of becoming the first ever player to make 1000 runs in both these age groups.

His best was in the year 2015 (Under 13) when he made 1182 runs in 14 matches which included six centuries against Rahula Matara (159), St. Servatius'Matara (151), Debarawewa NS (106), St. Peter's Bambalapitiya (106) and St. Thomas'Matara (105).

Paranavithana followed it up in 2016 by making 1022 runs from 13 matches that included five centuries against St. Servatius (175), Debarawewa NS (132), Ananda Sastralaya Kotte (125), Rahula Matara (118) and De Mazenod (106).

Paranavithana's national duties began in the year 2018 and he was unable to represent Mahinda College in many matches in the Under 17 and 19 tournaments, though having success on the few occasions he was able to represent his school.

Paranavithana became the youngest player, as a fresher, to play in the annual "Lovers Quarrel" big match between Mahinda and Richmond College, at the tender age of 13 years and ten months and since then played in four big match encounters in 2016, 2017, 2018 and 2019.

Paranavithana, representing the Sri Lanka youth team, has scored 979 runs inclusive of a century of 108 against England in a Tri-Nation tournament that included West Indies and eight half centuries in ODIs, also bagging 22 wickets in the 36 matches.

He was a part of the Colombo Kings franchise in the recently concluded Lanka Premier League tournament, though he did not feature in any matches.

Paranavithana paid gratitude to his past and present principal, master in charge Nishantha Kumara, coaches Lucky Arambawela, Rodney Pradeep Kumara, Suneth Kudahetti, Dhanushka Denagama, L.U.R. Sriyawansha (Asst), Anil Rideegammanagedera, Yomal Sanjeewa, Ananda Wijenayake (Asst) and Reshan Kavinda (Asst), School Development Society, Old Boy's Association of Mahinda and his parents and family members, as being instrumental in his success.
He has been a prolific batsman in all age groups – Under 13, 15, 17 and 19 – having led the senior side last year and representing the Sri Lanka national youth team