---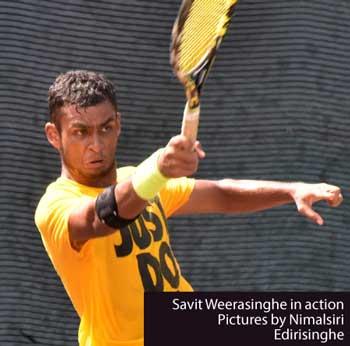 By M. Shamil Amit
The third day's proceedings of the 105th Colombo Tennis Championship played at the SLTA tennis courts in Greenpath yesterday, Colombo saw an upset when 16th seed Vibuda Wijebandara pulled off a stunning win over top seed Akila Vimukthi to advance pre-quarterfinals of the men's open event.

The thrilling three-set encounter saw Vibuda losing the first set and then coming back with a vengeance to take the second and third sets to come victorious. The other matches played saw unseeded Venuka Kithnula recording a thrilling win against eighth seed Kavisha Ratnayake while third seed Thehan Wijemanne, fourth seed Savit Weerasinghe, fifth seed Chathurya Nilaweera and ninth seed Dumindu Dilum recording easy wins to qualify for the pre-quarterfinals.

Second seed Janali Manamperi and unseed Sethmi Sumanaweera recorded easy wins to the quarter-finals of the women's open singles.

Top seed Ganuka Fernando coasted to a comfortable win over Pasindu Rukunayaka to book the berth to the Boys under 12 quarter-finals. The championship will be continued today.
Results
Singles:
Men's Open – Vibuda Wijebandara beat Akila Vimukthi 2-6, 6-0, 10-7. Thehan Wijemanne beat Michael Siyaguna 6-4, 6-3. Chathurya Nilaweera beat Dhilvan Herath 3-6, 6-4, 10-4. Dumindu Dilum beat Hesara Kuruppu 6-3, 7-5. Savit Weerasinghe beat Hasal Ahangama 6-0, 6-1. Venuka Kithnula beat Kavisha Ratnayake 1-6, 6-2, 10-7.
Women's Open – Sethmi Sumanaweera beat Nesangi Hemakumara 7-5, 6-4. Janali Manamperi beat Dahamna Methsanda 6-0, 6-2.

Boys Under 12 – Ganuka Fernando beat Pasindu Rukunayaka 6-1, 6-2.

Under 16 Boys – Nirmal Jayawardena beat Rehan Gunawardena 6-4, 4-6, 10-8. Heshika Perera beat Methvan Wijemanne 7-5, 6-2. Mateesha Nettasinghe beat Dimitri Perera 6-0, 6-0. Dulina Kumarasinghe beat Rishen Perera 6-1, 6-3). Bithila Goonetileke beat Adeesh Fernando 6-3, 6-2. Thisanda Bellanaarachchi beat Karthi
Udayachandran 7-5, 6-4. Janava de Saram beat Besandu Dasanayake 6-0, 6-0. Lisal Goonetileke beat Thilina Dissanayake 6-2, 2-6, 10-8. Ransith Peiris beat Binuk Silva 6-1, 6-2.

Girls Under 14 – Metasha Randini beat Hesara Nisindee 6-1, 6-4. Luvini Sumanasekera beat Nisali Dissanayake 6-2, 7-6.