---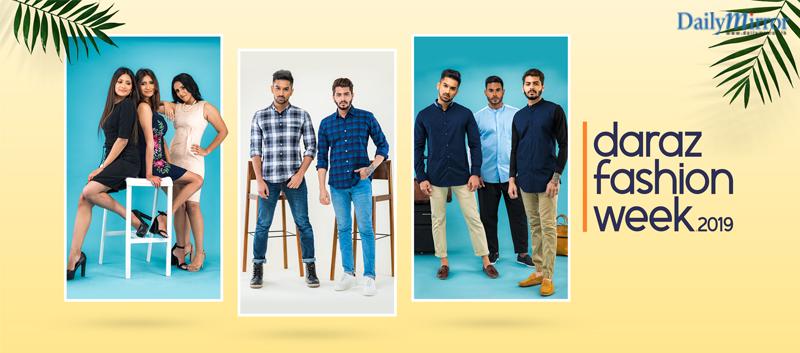 For those who are in need of a fashion fix, Sri Lanka's only online fashion week, Daraz Fashion Week is back for the 2nd consecutive year until 1 September with an amazing range of brands and designs to shop for.
Leading local brands such as TOFO, Emerald, Avirate, Laveena Sarees, Carlo Boy, Signature, Zara G and Privi Fashion will be on board showcasing their best ranges in casual, office and elegant wear for both women and men. These brands will also be launching their latest collections exclusively on Daraz for the Fashion Week.
"Daraz brings the largest selection of local and international fashion brands straight to your doorstep. Daraz Fashion Week highlights this offering, making available the highest quality, largest variety and the best prices in fashion to all our buyers countrywide", said Rakhil Fernando, Managing Director Daraz.lk
Capitalizing on the Global Collection that is available to all Daraz shoppers, Fashion Week will also host an array of global brands including Earnshaw and James McCabe, Police Timberland, Pepe Jeans, Hugo Boss, Lacoste, Ferrari, Sector, Lee, Maserati, Gantt, and Swiss Military, offering up to 20% discounts.
"All these brands understand the benefits that Daraz brings to them as an online partner, and they support our category growing initiatives continuously. We help fashion brands expand by reaching across the country, and tap on to new customers" elaborated Binu Wickramasinghe, Group Category Head - Fashion at Daraz.lk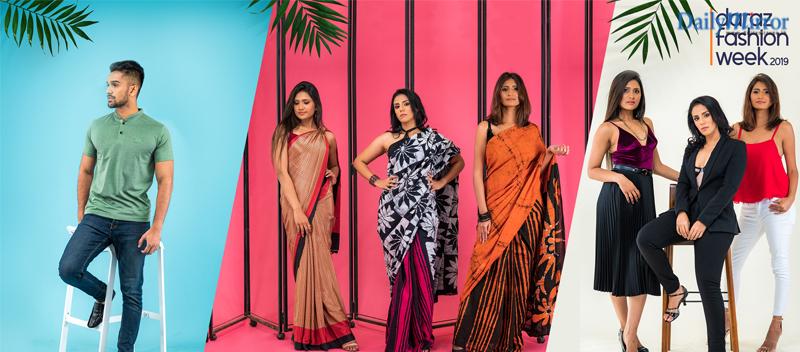 Speaking of partnering with Daraz Fashion Week, Zubair Hussain, Head of Marketing, Avirate said, "We are excited to launch our stunning new collection, from detailed embroidery to versatile dresses that promises an elegant look you'll be comfortable and confident in, at Daraz Fashion Week." In addition, Head of Design and Product Development, Emerald, Arun Kumar added, "At Daraz Fashion Week we will be launching a vibrant range of menswear providing gentlemen the perfect outfit for any occasion".
Daraz Fashion Week will keep the fashion enthusiasts on their toes with daily flash sales, attractive offers and new collections launching every day. A clearance sale will be held over the weekend, the last 2 days of the promotion. To add to the excitement are some of Sri Lanka's top banks, Commercial Bank, HSBC, NDB, DFCC, and the only online bank Frimi giving 20% off on all their credit cards.
E-commerce fashion is fast picking up in Sri Lanka and is one of the rapidly growing categories in the arena in general and on Daraz in particular. The Fashion category gives shoppers the opportunity to choose from multiple stores that provide a vast range of styles for their convenient budget, bringing one's favourite designs to the very doorstep. The Daraz Mall concept, further adds branded selections to the list of choices, thereby heightening the shopping experience.
"Daraz has been at the forefront of driving e-commerce in Sri Lanka through its marketplace model, compared to other retail e-commerce players in the market, and the fashion category has seen significant growth over a very short period. This is a good indication of the large appetite the Sri Lankan shopper has for fashion e-shopping and Daraz has opened doors to many fashion merchants to exploit this opportunity at no entry costs of setting up an online channel" stated Muditha Thebuwana – Chief Commercial Officer of Daraz.lk.
Daraz.lk, a 100% Alibaba owned entity continues to bring innovation and drive growth across multi categories in the e-commerce space. Daraz Fashion week is expected to attract over half a million users to the platform during the promo period and will no doubt be an exciting experience for the fashion shoppers in Sri Lanka as well as to the fashion merchants who are working closely with Daraz to grow the category dominance within the e-commerce space.