---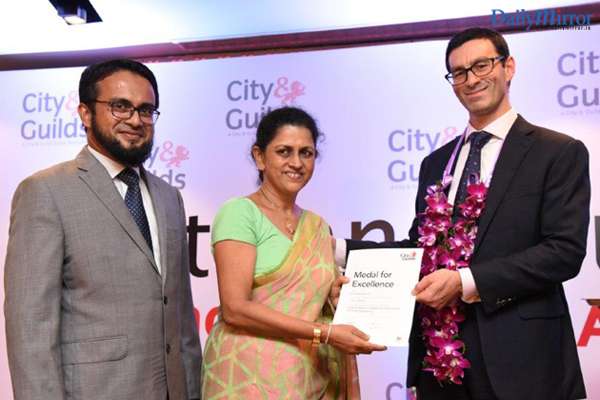 From left : Mr. Hifaz Ashroff (Head of Key Accounts and Partnerships - South Asia of City and Guilds), Ms. Kamanie Jayalath (Deputy Chief HR Officer /SLT), Mr. Jeremy Dahdi (Executive Director of International of City and Guilds)
​Sri Lanka Telecom (SLT) Training Centre, the training arm of the national ICT solutions provider in the country, affiliated with City & Guilds UK, together with several of its lecturers and students were recognized at the inaugural City & Guilds Learning Excellence Awards 2018 held recently. Mr. Jeremy Dahdi, Executive Director International, City & Guilds UK was present as the Chief Guest of the colourful awards ceremony held at the Jaic Hilton Colombo.SLT Training Centre has won 3 out of 4 international Medal for Excellence awards and 5 Learning Excellence awards.

Sri Lanka Telecom Training Centerwas awarded a certificate of appreciation by the City & Guilds UK for producing Medals for Excellence winners in the fields of both Telecommunication Systems and Electrical and Electronic Engineering year after year.Mr. H. C. M. Herath, Engineer/Transmission - SLT Training Centre Welisara was awarded the Medal of Excellence underthe lecturer category in the field of Electrical and Electronic Engineering. Two students of the SLT Training Centre, Mr. T. D. C. Perera and Mr. A. L. H. C. Perera both were awarded Medals of Excellence under the student category in the fields Electrical and Electronic Engineering and Telecommunication Systems respectively.
Another five students, Ms. A M V Fernando, Ms. I D Madhushika Lakmali, Ms. S C Aravindi Karunarathna, Mr. J M Isuru Buddhika Jayakody and Mr. W W Sahan Thisaru, received Learning Excellence Awards. The Learning Excellence Award is offered to top five diploma holders of each study centre who followed studies in different disciplines, in honour of their excellent achievement in technical studies. Identifying and selecting the winners of awards was carried out by thestudy centers. This award also recognizes the progression of learning of each student that will help them to reach greater heights in their professions.
Mr. Jeremy Dahdi, giving his comments on the awards ceremony said, "I feel privileged to have been part of the Learning Excellence Awards in Sri Lanka today; the enthusiasm and pride of the Award winners is an experience not to be missed. We, at City & Guilds strongly believe in the importance of recognizing individual potential and inspiring individuals to further their skills to achieve success."
Mrs. Kamanie Jayalath, Deputy Chief Human Resources Officer & GM/Talent Development of SLT said, "It was great to see so many students as well as a lecturer from the SLT Training Centre receiving awards from a renowned educational body such as the City & Guilds. We are proud to be affiliated with this global leader in skills development. The SLT Training Centre has produced Medal of Excellence winners year after year and we are proud to have so many students being recognized at the inaugural Learning Excellence Awards as well, which is a testimony of our commitment as a training institute as well as the hard work and dedication of the students themselves."