---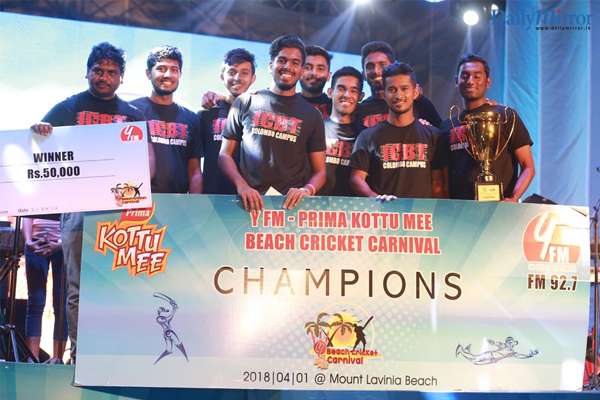 Mount Lavinia beach was abuzz with excitement last Sunday as Prima KottuMee and YFM hosted the first ever Beach Cricket Carnival in Sri Lanka.

Teams representing 8 higher educational institutes competed against each other to claim the championship. ACBT, ICBT, SLIIT and NSBM entered the semi-finals after a day full of exciting matches played on the purpose-built turf by the sea. The final match for the championship between ICBT and SLIIT was played under flood lights, adding a novel experience to the atmosphere. Following a thrilling encounter, ICBT emerged champions of the Prima KottuMee – Y FM Beach Cricket carnival.

Celebrities, YouTubers and Social Media stars joined in the fun by taking part in a number of exhibition matches. The 'Hot & Spicy' atmosphere created by Prima KottuMee was almost palpable, making the carnival the best experience for all the youth present.

At sunset, the crowds who were gathered were entertained to a line-up of popular artists and much more entertainment at the mini concert, which concluded the day.

True to its brand nature, Prima KottuMee made sure that guests walked away with memories of total #funthamai.