---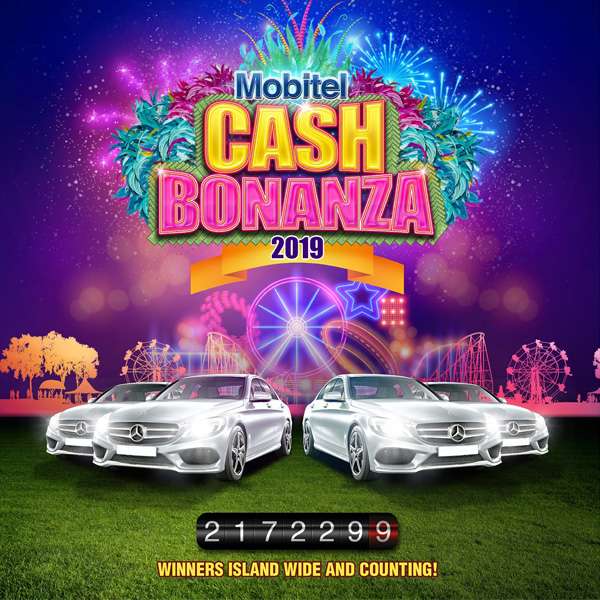 Everyone is a winner with Mobitel's Cash Bonanza campaign renewed yet again for2019, which will successfully reward customers across the entire spectrum with delightful prizes and surprises. Putting smiles on the faces of over 2,172,299 Sri Lankans to-date, the Cash Bonanza campaign rewards customers with Mercedez Benz cars and cash prizes throughout the year. Truly, Mobitel Cash Bonanza has become an eagerly anticipated event in people's social calendar, as families and friends converge on the latest Cash Bonanza location in a new town, each month, to enjoy a fun-filled celebration for all ages. In essence, Mobitel Cash Bonanza has become a celebration for the entire nation.
Mobitel Cash Bonanza 2019 offerscustomers the exclusive opportunity to win the latest Mercedes Benz cars, along with an opportunity to win millions in cash prizes. These gifts are awarded at its highly popular Cash Bonanza carnivals which also welcome the open public as well, where they can enjoy hours of fun and games amidst its festive, cheerful and fun-filled atmosphere.
Appealing to all ethnicities, genders and ages, it has become a must-visit event and is hosted in various towns monthly, giving people the experience of a lifetime. For children, the event is an opportunity to dance, sing, play games and experience the best in entertainment, while for the teens, it is a platform to engage with the newest technology where forums and IoT (Internet of Things) training sessions are held. Meanwhile, for the youth, the Mobitel Cash Bonanza offers foot-tapping musical shows featuring top artistes. The event is also meaningful for senior citizens, as they can have their eyesight, blood sugar ad blood pressure levels checked by top health specialists.The Mobitel Cash Bonanza is a great reason for all Sri Lankans to look forward to a year of rewards and surprises that will help celebrate life.
Cash Bonanza is a reload, recharge and bill payment promotion for Mobitel customers. Mobitel Pre-Paid, Post-Paid and Broadband customers are eligible for the Mobitel Cash Bonanza draw with a winning chance for every Rs. 50/- cash recharge, reload or Post-Paid bill value payment. There is no separate registration process but all Mobitel customers are automatically entitled for the draw. For the daily cash prizes, Pre-Paid winning customers will receive the prize by way of talk time and data for the same value and Post-Paid winning customers will receive the prize by way of a rebate on their Post-Paid bill. Cash Bonanza winners will only be notified via Mobitel's customer care hotline 071 27 55 777 and in writing via post. Customers will not be charged an additional fee for any prizes they have won.