---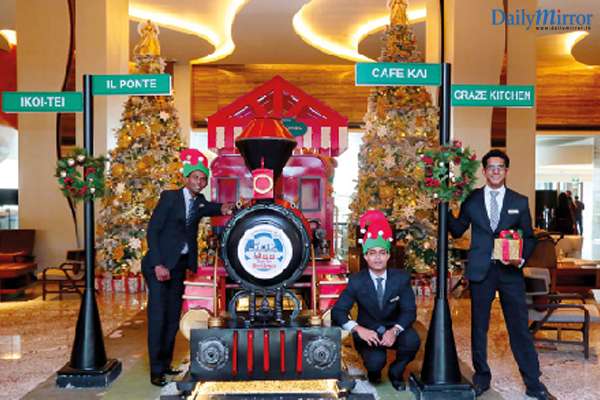 Cinnamon being the flavor of the month, Hilton Colombo has come up with a range of food and beverage items in their restaurants in addition to their Christmas collection. From delicious cakes to mocktails and cocktails, hot food and desserts, this flavor is apt for the season.And that's not all, this Christmas discover magic around every corner of the hotel. Captured here is the big choochoo train; 4mtrs long and 1.5 mtrs wide, with Teddy and his gifts, this train is parked at Santa's Station in the Hilton Colombo!
Also pictured here is the2.5 mtr high mountain range with handmade cinnamon flavored ginger bread houses intricately decorated with icing and little marzipanelves, snow men, igloos and ice bears scattered around the mountains creating a beautiful "Gingerbread Village on the snowy mountains". A train on a railway track runs through the tunnel completing this magical scene.In another corner you will find Santa's Gift Shop with a range of Christmas goodies to choose from. You can just wonder in and pick up a cinnamon infused yummy cake or a slab of chocolate; whichever takes your fancy.
Visit www.hitoncolombo1.com. fb/HiltonColombo for details about our F&B offerings.