---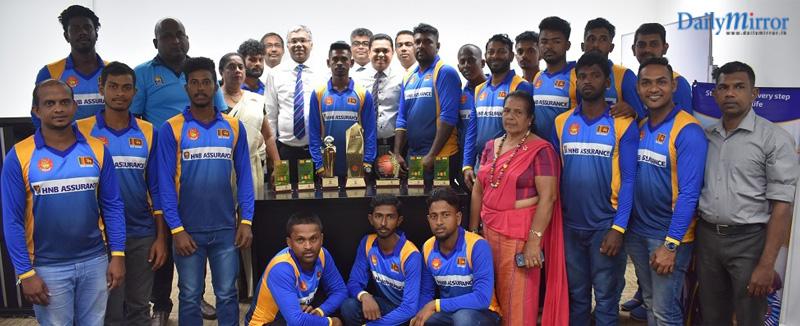 L-R Chief Operating Officer of HNBA, Prasantha Fernando, Managing Director/CEO of HNBA and its fully owned subsidiary HNBGI, Deepthi Lokuarachchi, Head of Marketing of HNBA, Dinesh Yogaratnam, Chief Technical Officer of HNBGI, Sithumina Jayasundara and Deputy Chief Operating Officer of HNBA, Lasitha Wimalaratne with the Sri Lanka Deaf Cricket Team.
HNB Assurance PLC (HNBA) proudly sponsored the Sri Lanka Deaf Cricket Team for the 3rd time, as they set out for yet another endeavor, playing against India in the Deaf Cricket Series. In 2018, the Sri Lanka Deaf Cricket Team claimed victory by becoming the champs of the Inaugural Deaf Cricket T20 World Cup in India, while also emerging as the runners up at the 2nd Asia Deaf Cricket Cup tournament which was held in 2012. Manned by well-trained individuals from various parts of the country, journeying through many victories over time, the Sri Lanka Deaf Cricket Team was backed by HNBA to uplift and highlight the talents of the differently abled as part of the Company's CSR initiatives.

Sharing his views, Managing Director/CEO of HNBA and its fully owned subsidiary HNB General Insurance Limited (HNBGI), Deepthi Lokuarachchi stated, "We are indeed pleased to support the endeavors of such a strong minded team, working tirelessly to make our country proud. Each one of these individuals have demonstrated exemplary talents, setting a unique example for the society. As a business built on providing protection and taking care of the community and its people, we firmly believe in creating equal opportunities and strengthening one's life journey to reach greater heights. Over the years, the team has performed extremely well, winning both national and international tournaments and we wish them strength and courage for the upcoming series and more".

Head of Marketing of HNBA, Dinesh Yogaratnam sharing his thoughts added that, "Our Social Stewarship activities focuses on areas such as health and wellbeing, provision of clean drinking water, education, arts and culture, environment and sport. In this regard, the company has been partnering the Deaf Cricket Association and this is the third year of this partnership. Through this, the company endeavors to uplift sport and in this case, sports of those that are differently abled. It is indeed heartening to see the energy and vigor of these special group of young lads, who were able to bring home the T20 Deaf Cricket World Cup and we wish every success in this tournament as well".

Speaking about the partnership, National Organizer of the Sri Lanka Deaf Cricket Association, Mrs. Indrani Ariyaratne expressed her thoughts stating, "Over the 03 years that the team has been sponsored by HNBA, the company has stood as a pillar of strength that guided the team to become the Champions in the World Cup. On behalf of the team, I take this moment to place my heartiest gratitude towards the company for their noble support, and we wish for their continued partnership with us for the upcoming world tournaments in 2020".

HNB Assurance PLC (HNBA) is one of the fastest growing Insurance Companies in Sri Lanka with a network of 62 branches. HNBA is a Life Insurance company with a rating of A (lka) by Fitch Ratings Lanka for "National Insurer Financial Strength Rating". Following the introduction of the segregation rules by the Insurance Regulator, HNB General Insurance Limited (HNBGI) was created and commenced its operations in January 2015; HNBGI continues to specialize in motor, non-motor and Takaful insurance solutions and is a fully owned subsidiary of HNB Assurance PLC. HNBA is rated within the Top 100 brands and Top 100 companies in Sri Lanka by LMD and HNB Assurance has won international awards for Brand Excellence, Digital Marketing and HR Excellence and won many awards for its Annual Reports at award ceremonies organized by the Institute of Chartered Accountants of Sri Lanka and SAFA (South Asian Federation Accountants).