---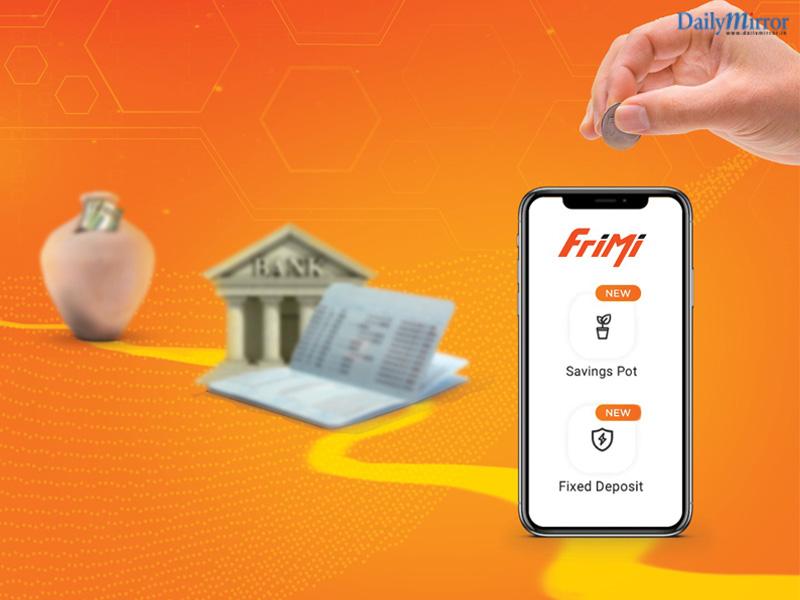 Pushing the boundaries of digital payments to new heights, FriMi, Sri Lanka's most popular and trusted digital banking solution, is set to infuse a fresh new approach to savings with the launch of their new product, 'Savings Pots', a one-of-a-kind savings. One of the first banking products launched in addition to the existing savings account, FriMi is inviting customers to open 3 more additional savings accounts called 'Savings Pots' in a matter of a few clicks. The customer can divide their income amongst these pots while earmarking funds for 'must do' activities giving them the freedom and flexibility to move funds amongst the accounts. The concept of 'Savings Pots' empowers customers to manage money better based on mandatory spending for house rent, utility bills, insurance premium, bills, educational payments etc., while simultaneously keeping money aside for recreation and other important things rather than facing a month-end surprise when the income dwindles. FriMi helps customers save for a rainy day by not allowing any transactions directly through these pots or to have them linked with debit cards.
One of the unique features of the product is that is creates one platform for all needs including fund transfers to other bank, sending money via the mobile number, making all utility bill payments, other credit card payments and more from the comfort of their homes. The App also allows users to keep track of all expenses and earnings in a graphically categorized method to manage money effectively.
Commenting on the exciting launch, Nazeem Mohamed - Head of FriMi said, "FriMi has revolutionized digital banking in Sri Lanka, in a manner that has liberated customers to make digital payments while on-the-go and to enjoy unprecedented convenience and ease of use. Inspired by the immense trust and adoption of FriMi, we are proud to add further value with a new savings product, 'Savings Pots', which is a highly engaging money management product to streamline savings. 'Savings Pots' helps customers manage their funds easier while they streamline their income and optimize finances. It is money made easy for our deserving clients. The use of a reliable and trusted digital banking solution like FriMi to power people's digital lifestyles is indispensable and a must-have!"
In addition to the 'Savings Pots' FriMi now also offers customers Fixed Deposits for long term savings. FD's from FriMi offer you even more convenience as you can open one from your phone without having to fill out forms at the bank. With a minimum deposit of Rs. 50,000, a customer can open FD's for 1, 3, 6, 12, 24, 36, 48 or 60 months, collecting their interest at maturity, monthly or annually and the interest will be credited to the customers FriMi account.

Owned and backed by the stability of Nations Trust Bank, FriMi inspires trust when it comes to confidentiality of financial transaction. Today, it is the market leading, fully-fledged Digital Banking experience, Mobile Wallet & Payment System - giving its over 125,000 customers an unparalleled experience. FriMi is also launching Lanka QR, a popular QR code to make transactions 'tap and go', easier and contactless.
FriMi has become a crucial partner for one and all during the recent pandemic and work from home directive as it helped people make online transactions with ease and convenience while tracking their expenses.
FriMi has established its credentials as a premier lifestyle brand that helps users enjoy multiple experiences with ease as it has a strong network of merchants amounting to over 3,500. It is rapidly expanding both its e-commerce and physical merchant network across the country by using its QR and unique API integrated payment capabilities. FriMi also marks dominant presence in the Justpay service on interbank transactions due to its significant market share.