---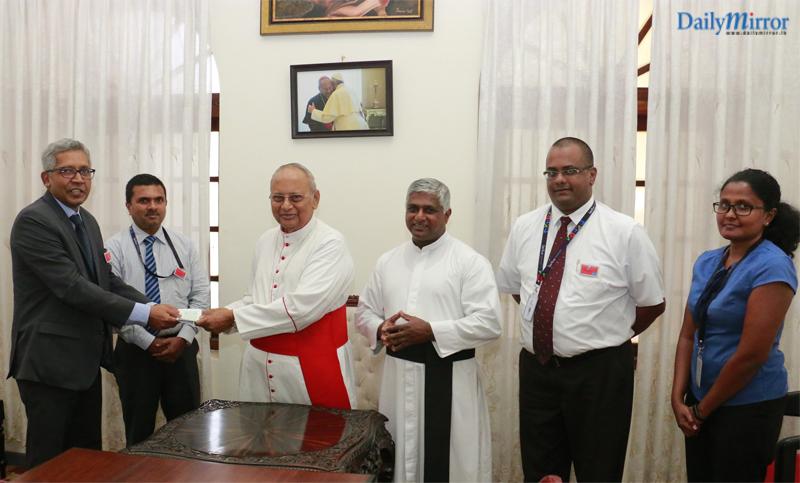 From left: Dr. Sanjeev Jha, Mr. Priyantha Perera, Mr. Dhilan Mitchell & Mrs. Priyanwada Rodrigo of Fairfirst Insurance, handing over a cheque of LKR 20 million to His Eminence, Malcolm Cardinal Ranjith and Rev. Father Lawrence Ramanayake
Fairfirst Insurance's Managing Director & CEO, Dr. Sanjeev Jha and company representatives met with His Eminence, Malcolm Cardinal Ranjith. At this meeting Dr. Sanjeev Jha offered condolences and support to communities affected by the terror attacks in April. In this regard, he volunteered the support of the 1500 employees and associates of Fairfirst. In addition, he handed over a cheque as donation for the rehabilitation of the affected families.
Fairfirst Insurance, with the support from the Fairfax Group, has earmarked a charity fund which will be deployed across different organisations for the assistance and support of those impacted both in terms of their immediate as well as future needs.
His Eminence, Malcolm Cardinal Ranjith stated, "I am heartened with the concern and support placed from Fairfirst Insurance and its parent, Fairfax Financial Holdings. Theirs is a pure commitment which goes beyond financial donation and is a reflection of their commitment to the community they work, live and love in."
At this occasion Dr Sanjeev Jha mentioned, "This is the time to heal the hurt. Business is noble when we use our forces for such rebuilding. At Fairfirst, we have been blessed to receive lots of love and care from our community. This is our time to give back, in our own modest way."
Earlier in the month, Mr. Prem Watsa, Chairman and CEO of Fairfax Group, in a message to employees and associates wrote, "the Fairfax family is very keen towards engaging with the communities to rehabilitate the affected. In this context, we will be working closely with the team at Fairfirst to explore the most cause-worthy avenues towards lending a hand."
All aid provided is being managed by the social action arm of the Archdiocese of Colombo,
Seth Sarana, who are coordinating the overall responsibility of rehabilitating the affected families under the leadership of Rev. Father Lawrence Ramanayake.
Fairfirst Insurance Limited, is part of the global Fairfax Group. The Group is a leading property and casualty insurer, reinsurer and investment manager, headquartered in Toronto, Canada. Fairfirst, is today among the top general insurance companies of Sri Lanka. Fairfirst serves individuals, businesses and institutions across this beautiful island through a versatile workforce spread across comprehensive branch network, affinity partners and brokers in Sri Lanka.