---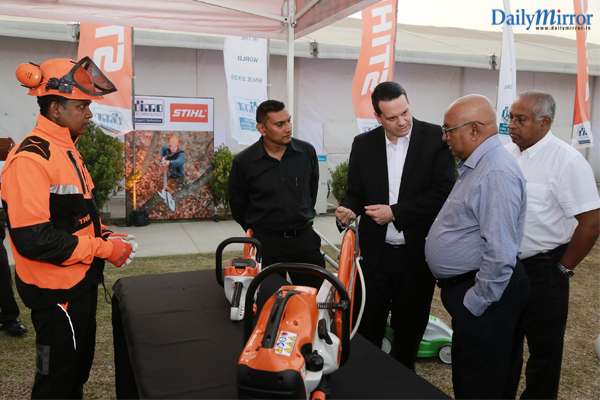 STIHL Senior Sales Manager (Middle East, India and Sri Lanka) Peter Wesner explaining product features to DIMO Chairman and Managing Director Ranjith Pandithage and DIMO Group CEO Gahanath Pandithage at the ceremony. DIMO Assistant General Manager of Power Tools Division Kumar Rodrigo looks on
Diesel & Motor Engineering PLC (DIMO), has recently announced its partnership with the world - renowned German power tool brand, STIHL.
DIMO has been chosen as the authorized distributor of the STIHL products nationwide further exemplifying its leadership in world class brand introductions to Sri Lanka. Founded in 1926, the STIHL Group manufactures power tools for professional forestry, agriculture, gardening, landscape maintenance, construction sector and demanding private users.
The introduction of the innovative STIHL products range to its dealership covering Sri Lanka was ceremoniously held at Waters Edge recently, graced by the presence of the Management of DIMO and STIHL. Over 50 dealers representing different parts of the island took part in the event. The dealers were educated on the STIHL product range and the technical aspects of it. Moreover, they were also given an opportunity to experience the products at the ceremony.
Chairman and Managing Director of DIMO, Ranjith Pandithage, commenting on the latest partnership said "DIMO always partners with world's best brands to bring the best to our customers with our exceptional after sales care. DIMO is renowned for representing the best engineered brands in Sri Lanka and has won the trust of our partners over the years. We are proud and honoured to announce our partnership with STIHL from Germany and we are extremely confident that this affiliation will bring the best to our customers and benefit them in changing their quality of life".
STIHL has been the world's top chain saw brand since 1971. STIHL products are circulated exclusively through authorized dealers, including 37 sales and marketing subsidiaries, approximately 120 importers and more than 45,000 servicing dealers in over 160 countries globally. Additionally, STIHL has manufacturing plants in seven countries around the world: Germany, USA, Brazil, Switzerland, China, Austria and the Philippines. In 2016, it achieved a total worldwide sales volume of 3.46 billion Euros alongside a workforce of 14,920.
Through this partnership DIMO will distribute STIHL's range of power tool products throughout Sri Lanka using its dealer network and expertise in modern trade and other distribution channels. The association ensures the providence of chainsaws, brush cutters, weeders,high pressure washers, vacuum cleaners, earth augers and the like to local customers. DIMO is especially recognized for its after-sales service and its proficiency in marketing power tools. These are the key factors for choosing DIMO as the authorized distributor of STIHL products in the island.
Parind Prabhudesai, MD, STIHL South Asia added, "We find assurance and have confidence in DIMO to be an excellent distributor of our products in Sri Lanka. They have always been a leader in the automobile industry and have been committed to responsible and ethical business strategies which will be hugely beneficial to this association."
As the nation's premier supplier of automobiles and automobile solutions, DIMO has always been a cut above the rest when it comes to identifying the needs of the community. Consequently, DIMO adds value to the world's most sought after and best engineered brands through its local strengths and capabilities.