---
There is a Buddhist monk – a hardliner on national issues -who very often takes the government to task.

He also took a lead role in the campaign for securing the release of another vociferous monk who was serving a jail term. He has along with a group of some other prominent monks founded an organization to agitate against certain decisions and actions taken by the government.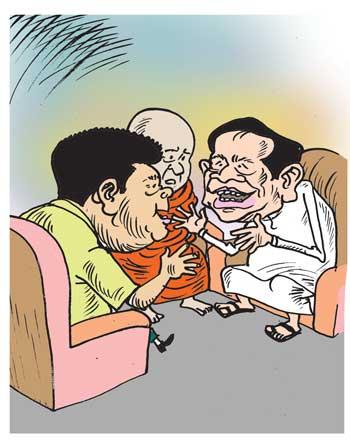 A rumour has recently gone viral that this monk while being an uncompromising detractor of the government, has begun negotiating a political deal with some of its leaders. The rumour has gained a measure of credibility following the monk's public statement that a certain purohita representing a constituency in the Kalutara District is qualified enough even to grace the highest office in this country.

By the way, the monk had the other day been a party to a secret discussion held with two others inside a room at the Health Ministry. One of the other two is said to be a leading Green Party aspirant to Number One office. The other one is a top team member who is said to be a protagonist of the faction loyal to the Green leader.

Although it is safely presumed that the discussion of the trio behind locked doors had centred on the ongoing dispute between the Green Party leader and its deputy, its details remain a secret, they say.

Knowledgeable sources, however, say that the outcome of this powwow, which could be out soon, is likely to signify the monk's departure from the extremist patriotic line to begin a new political journey.