---
Says Dharshini Nanayakkara who is on a mission to thrust 'Little People' into the limelight
When a video of Quaden Bayles, a child with achondroplasia (informally known as dwarfism) did its rounds on social media, it received many heart, sad and angry reactions. But in reality, those born with this condition are still being laughed at, humiliated and not given due recognition in society. Sri Lanka too has a considerable percentage of
them who are reluctant to come out in public due to harsh experiences. This is why Dharshini Nanayakkara is determined to bring these 'little people' to the limelight. A product of Bishops' College, Nanayakkara has also pursued a degree in business management and accountancy from Colombo Business School.
As the proprietor of a hotel and garment factory, Nanayakkara has provided employment opportunities to disabled people and has earned many awards and accolades for her social endeavours. As the founder of the Little People Association of Sri Lanka, Nanayakkara's mission is to provide employment opportunities to people with achondroplasia and encourage them to be independent.
In an interview with the Daily Mirror, Nanayakkara spoke about the challenges she faced in life, what she aspires to do through the Association while also giving a strong message to society.
Excerpts :
Change should start from home. I tell my children not to laugh at others
I have been able to employ partially disabled people at my garment factory
I received the Swashakthi Abhimani award in 2017 which was awarded by the Social Services Department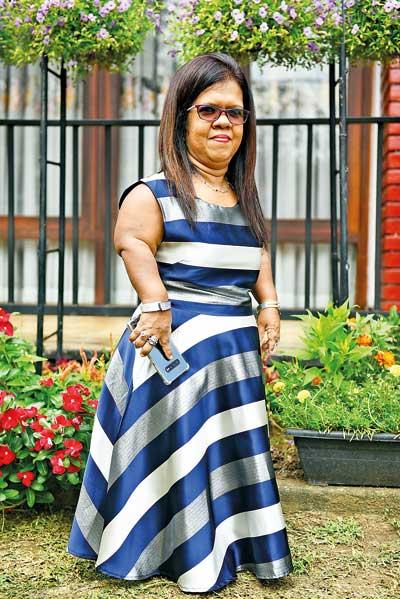 Dharshani Nanayakkara
Q Tell us about the Little People Association.
I faced a lot of difficulties to come this far in life. People don't accept us as normal people and that is why I wanted to form this organization to benefit them. Many people with achondroplasia don't want to come out and therefore they are unemployed. I advertised in the papers last year, calling for everyone who has this condition to contact me. Only the poor people contacted me. But I want others also to contact me. I cannot do this single-handedly. Around 90 odd people have joined the organization and there are many who are qualified in IT, teacher training etc, but they have a problem with getting job placements. Many of them are living with their parents and once they die, they don't have a way to earn a living. Through this Association I want them to be independent. Therefore, I want to bring this to the attention of the President and give them the due recognition in society.
Q What were the challenges you faced?
I too have been bullied in school and therefore didn't get an opportunity to do extra curricular activities. Children with achondroplasia sometimes stop schooling because they are being bullied and also have challenges in using public transport. Recently too I was affected when I went with my son to the parent-teachers meeting and I saw how the other children were showing me to one another. I have two sons and one of them has this condition. I put him to a private school because the environment is much friendlier and readily accepts such individuals. We are not disabled people; just short in height. When they see a dwarf they look at us like we are a joke. This is because we have been segmented to the clowns and joker category.
Q Tell us about the support you had from your family.
I got married in 1999 and my husband has always been supporting me in all my work. My mother, brother and sister have also given me a hand to succeed in my endeavours.
Q You have received many awards and accolades for the social work that you do. Let's talk about that.
I have been able to employ partially disabled people at my garment factory. A few of them are also employed at the hotel. Apart from that a few other hotels too have volunteered to provide job opportunities for disabled people. In recognition of this endeavour, I received the Swashakthi Abhimani award in 2017 which was awarded by the Social Services Department. Recently I received the Swarnasinghe National Honorary title in recognition of the social endeavours I'm involved in. One problem I observe is that these people are so used to working from home that they don't want to put some effort to earn a living. They need to come out of their shells and find jobs.
Q What activities are being done from your Organisation?
It's still at the foundation stage. There's so much of work to be done. It's still not accepted as an organisation as it has to be registered. I have to produce the work I have done for these people. So far I have done projects from my personal funds. The people need to be registered and we had our initial meeting last year. It was a successful meeting and I'm looking forward to have a meeting this year in July. I want to do awareness programmes, make them aware that they are being accepted in society and provided them with employment opportunities. Some of them don't have a place to stay and some are rejected from families. I want them to have confidence in them and maybe setup a home for them where they can go to work and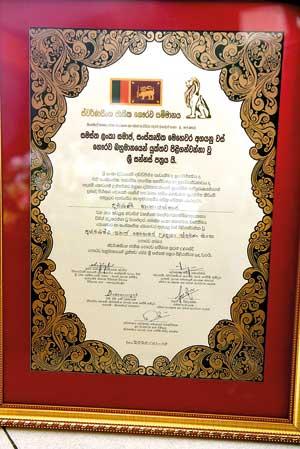 Swarnasinghe Honorary title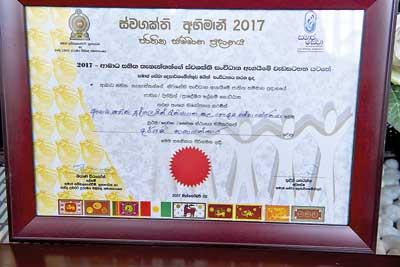 Swashakthi Abhimani 2017 award
have shelter for themselves.
Q We see people with achondroplasia in movies, often taken for roles such as clowns and jokers. What are your thoughts?
I don't like to watch those movies. These people are being exploited. Some don't even get paid.
Q We saw how people reacted to Quaden Bayles' video. It once again sparked a dialogue about anti-bullying campaigns, but they don't seem to work as expected. Where should change begin from?
Change should start from home. I tell my children not to laugh at others. Even if it's a normal person I have asked them not to tease or bully. My personal view is that this is a matter of upbringing. Children look at us first. My elder son is short and my younger son is growing taller. But I have explained to him not to call names at his brother. Now, my younger son always looks up to me and his elder brother.
Q How is the situation with people with achondroplasia and those families in rural areas?
In my younger days I used to hate participating in alms givings and funerals in rural areas because people used to crowd around me. We are not talking about the issues our children are faced with. Very few are learning to change. Even in international schools the prevalence to bully a child like this is still high.
Q What are your future plans ?
I want to bring them to the limelight and want to see one or two of them enter Parliament, so that this community too is represented. I want them to know that they are not being cornered. But firstly we need to be educated and that's the only way to succeed in life.
Q What's your message to society?
Please don't bully, tease or make funny remarks at people with achondroplasia. Accept them as normal people. Try to offer them jobs as much as possible, according to their qualifications.
Pix by Kithsiri De Mel