---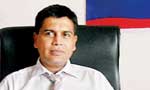 TVS Lanka, a premier automotive company in the country specializing motor cycles, scooters, threewheelers, spare parts and lubricant business, records a groundbreaking 1H performance surpassing all key performance indicators significantly over the same period last year.

"The 1H performance was very significant and in fact a major turnaround with Rs.1.1 billion revenue growth to reach Rs.3.1 billion half yearly with 55 percent growth. Profit has grown even more profoundly by 18 times over the corresponding period," said TVS Lanka Chief Executive Officer Ravi Liyanage.
Very focused strategic initiatives deployed during the first six months of the financial year had reaped rich rewards. Re-positioning and rationalization of product portfolio, identifying and targeting strategic markets segments, re-launching of promising models with new value proposition for better consumer engagement, productivity enhancement and expansion of dealer network, re-structuring of islandwide service and Spare parts network, competency enhancement of staff and sales force in particular, process re-engineering and customer relationship management to enhance net promoter's score from the existing users paid dividend during the period under review, added Liyanage.
Service is pursued as one of the key competitive advantages behind the brand TVS and islandwide service network and spare part network for both two-wheelers and three-wheelers had been expanded and developed to reach both number and high quality. Two-wheeler service/spare parts network represents 590 and threewheeler service/spare parts network 395.To enhance service quality TVS also has been partnering with Vocational Training Institute of Sri Lanka on a regular basis to train its instructors and develop skills and competencies of potential technical professionals they produce to the automobile sector that TVS represents.

TVS Motor Company, the flagship of 100 years old, US $ 7 billion TVS Group, is one of India's leading twowheeler manufactures and among the top seven in the world. The company has three manufacturing plants in India and one in Indonesia. Present in over 57 countries worldwide, TVS Motor Company is renowned for innovation and currently owns 600 + patents.

TVS Motor Company has the unique distinction within automotive industry, being only two-wheeler manufacturer to have been awarded the Prestigious Deming Award in 2002. TVS Motor Company is the only Indian Automobile Company which won the Prestigious Deming Award.The Deming Award is a global quality award that recognizes both corporates and individuals for their contributions to the field of Total Quality Management (TQM) and businesses that have successfully implemented TQM.

TVS King three-wheeler has captured the attention as the innovator in the category. TVS King with a view to promote its innovativeness, performance, style and efficiency recently signed with the 'King of Cricket', Kumar Sangakkara.TVS Lanka is the pioneer and the technological leader in the scooter market with a large array of scooters - Scooty Pep, Scooty Streak, WEGO and Jupiter, which is the latest addition.

Scooty pep was the first to launch in the country and has a tremendous growth in sales. The new Gen Scooty pep+ is for that 'bubbly teenage girl who is around 19 years'. Scooty Streak has perceived as the trendy scooter in the country and it is for unisex usage. TVS WEGO has perceived as the most modern unisex scooter in the country. It is for extreme unisex usage and ridden by both male and female who are around 25 years of age and more rugged in nature, could be used in all terrains. The New Wego boasts body balance technology which makes maneuverability easy in touch traffic conditions. Its 110cc CVT-i engine gives best in class mileage and comes with digital speedometer.

TVS Jupiter has been perceived in the mind of a Sri Lankan as the 'Scooter for the executive' is lifestyleled, more manly, big in size, smart and male attitude driven. Usage wise it's for more office/professionals. This is for a 24-year-old young executive. Features like largest front leg space, brightest headlamp and unique pass by switch provides added benefits to our customer.

In its motor bike category Apache being the flagship barand has been receiving overwhelming user confidence for its unique style and unmatched performance. Apache RTR, Metro, XL SUPER and Phoenix are the brands in the main stream of the two-wheeler category.
TVS Metro is the longest run bike in Asia since when it gets one litre of petrol, it will run for 87Km. This is according to ARIA India reports. TVS Metro also perceived in Sri Lanka as the entry bike for the youth and specifically targeted to a young executive. Features like 100 cc Dura life engine, powerful Electric start with stylish alloy wheels have been the USP of TVS Metro.