---

Owners of luxury, semi-luxury and semi-luxury dual purpose vehicles will now have to pay all taxes payable to the Department of Motor Traffic (DMT) before the expiry of 60 days from the anniversary date of the vehicle registration or end of the tax year or whichever comes first.

This is opposed to the current practice of paying taxes at the time of renewing the motor insurance policy. These payments are collected by the respective insurance companies on behalf of the Motor Traffic Commissioner General.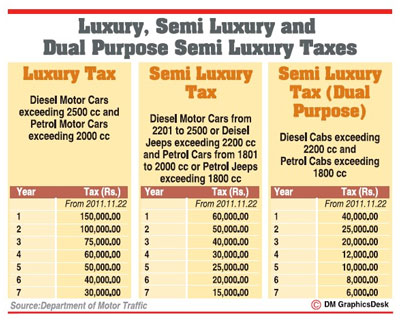 Speaking to Mirror Business regarding the change, Insurance Association of Sri Lanka Immediate Past President Ramal Jasinghe explained that the DMT had made this decision since the due payments were being submitted in a haphazard manner.

"The department wants to bring in some uniformity into these payments," he said.

Further, if the taxes are not paid in the manner prescribed by the DMT, a government penalty of 50 percent of the relevant tax will be levied upon the owner.

Jasinghe also pointed out that insurance companies have reserved the indemnity to not be held responsible for any penalties arising from late payments made by clients.

Meanwhile, commenting on the matter, Union Assurance PLC CEO Dirk Pereira stated that this change was not one applicable to only one insurance company but was a change in the entire industry.

"Clients need to be aware that this is a change applicable to all insurance companies and they will now have to make the tax payment according to the new regulation and not when they renew their motor insurance policy," he said.

Line ministries and departments, ministries of Provincial Councils and departments, United Nations and all its agencies, all diplomatic missions and Gazzetted international organisations are exempted from these taxes.
---
---
Add comment

Comments will be edited (grammar, spelling and slang) and authorized at the discretion of Daily Mirror online. The website also has the right not to publish selected comments.

---