---
As IBM marks its 50-year presence in Sri Lanka this year, the global technology giant announced its partnership with Hatton National Bank (HNB), a leading private sector bank in Sri Lanka. IBM will support HNB with supply and installation of the SmartVista solution, provided by BPC Banking Technologies Group, to help HNB scale up their operations and minimize service disruptions, providing the ability to launch new products, streamline revenue streams and enhance overall customer experience.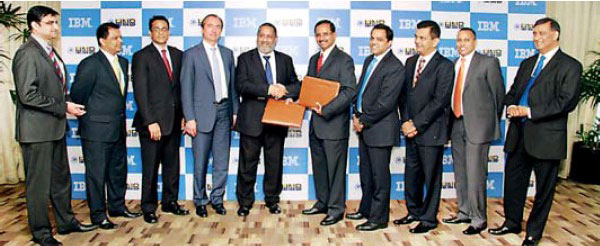 (From left): Sachin Seth, VP Geo Expansion, General Business Service, IBM South Asia; Jonathan Alles, Deputy CEO, HNB; Rajan Narayan, MD/APAC, BPC Banking Technologies; Anatoly Loginov, Chairman, BPC Banking Technologies; Rajendra Theagarajah, Managing Director, CEO, Director, HNB; Shanker Annaswamy, Regional General Manager, IBM India South Asia; Ganesh Margabandhu, Vice President, General Business, Geographic Expansion and Inside Sales, IBM India/South Asia; Chrishan Fernando, Country General Manager, IBM Sri Lanka; Sidath Wijerantne, CIO, Head of IT, HNB; P. Sridharan, AGM, HNB



"We have been in Sri Lanka since 1962 and in recent years we have experienced growing demand for our solutions and services as businesses and governments in the country turn to IT to transform operations and enhance global competitiveness," said Shanker Annaswamy, Regional General Manager, IBM India/South Asia.

"IBM is committed to the success of its clients and has been instrumental in providing world-class technology to the banking and financial clients in Sri Lanka. Our solution implementation for Hatton National Bank will ensure that they stay right ahead of competition and deliver services with utmost efficiency to their customers."

HNB is at the forefront of using advanced technologies to automate processes and be part of a movement that IBM refers to as Smarter Banking which uses intelligence to drive operational efficiencies, customer centricity and better risk management. A "smarter bank" anticipates client needs and delivers innovative products faster and more consistently than the competition.

"With growing competition in the market, technology is essential in helping us to differentiate and offer innovative products and services to our customers. We have been engaging with IBM on strategic initiatives and have obtained solutions across hardware, software and services," said Rajendra Theagarajah Managing Director/CEO Hatton National Bank.

"The SmartVista solution is engineered to be implemented rapidly – speeding time to revenue for Hatton National Bank. Its visionary design means that future changes can be easily accommodated; ensuring that HNB will be able to capitalize on opportunities in the changing payments landscape," said Rajan S. Narayan, Managing Director, BPC Banking Technologies.

This payment domain based initiative is in line with HNB's new three-year strategic plan which places high emphasis on IT as a key enabler which will steer HNB to maintain its leadership position in the banking landscape in Sri Lanka. IBM will be implementing this solution across the delivery channels of HNB Bank and will undertake maintenance and support of the solution over the next five years.

IBM is also expanding its operations in line with the country's continued rapid economic transformation; which includes increased demand for its solutions and services in high growth cities like Hambantota.

"IBM is committed to Sri Lanka and can bring in its expertise and value proposition to help industries and government grow. IBM's roadmap for 2015 includes focus on analytics, next generation data centre and cloud and smarter planet. We want to explore these opportunities in Sri Lanka as well," said Chrishan Fernando, Country General Manager, IBM Sri Lanka.

IBM's wide range of capabilities is helping the banking industry, as it goes through interesting and challenging times with aggressive expansion plans on one hand and the need to be innovative and be different on the other hand. The Sri Lankan banking sector is being driven by customer demands for additional services as they move towards alternate banking channels such as mobile banking, internet banking and hence the need for advanced technology becomes significant.

IBM is working with over 15 business partners in Sri Lanka to increase scale and customize its solutions in line with the local needs of the market.

The I T i ndustry i n Sri Lanka has evolved considerably over the last 50 years. IBM is among the leading technology services companies to be present in Sri Lanka for half a century, offering end-to-end services and solutions in the field of hardware, software, services and consulting.