---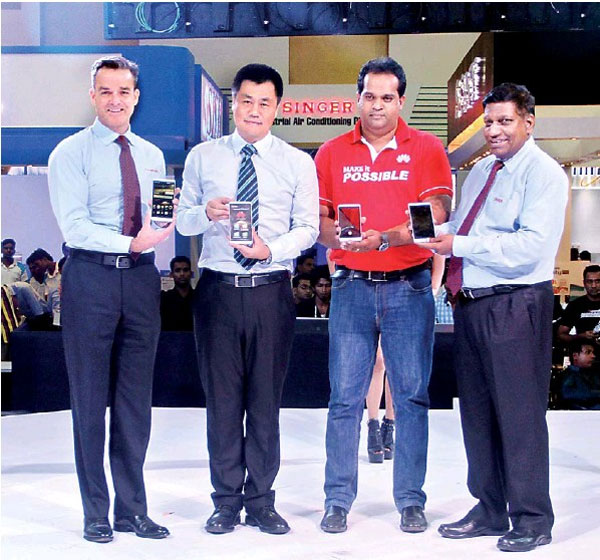 Huawei Ascend Mate7, the latest flagship smartphone of Chinese tech giant Huawei Technologies Co. Ltd. was launched in Sri Lanka last week at their local partner's Singer Lifestyle Exhibition and Fun Fair, at the Sirimavo Bandaranaike Exhibition Centre."Ascend Mate7 is the latest big screen smartphone from Huawei and it shows its big ambitions as the number three smartphone vendor in the world," Huawei Device South East Asia Managing Director Thomas Liu said.Huawei also holds the number two position in Sri Lanka, claiming a 20 per cent market share for the year 2013/14 after it entered the scene just two and a half years ago.

Liu said that the consumer segment of Huawei Technologies Lanka Co. (Pvt) Ltd earned over US$ 20 million in revenue for 2013/14 and that the growth for the year was 11.4 per cent, while recording a 16.6 per cent growth for the 4th quarter. He further added that the growth this year until October has been 11 per cent.This is in addition to its business to business and network solutions segments.Liu said that the first shipments of new Huawei products in the Chinese market are continuously sold out due to advanced bookings, and that the Sri Lankan market may also mature soon to start pre-orders."Huawei's innovation continues to identify t he changing consumer and technology, resulting in a triple win situation for the customer, Singer and also Huawei," Singer Sri Lanka PLC Group CEO Asoka Pieris said.

Huawei Ascend Mate7 features a massive 6-inch screen with a FHD display for enhanced entertainment viewing, a slimmer 7.9mm body for increased comfort, a powerful octa-core chipset for superior performance and a longer-lasting 4100mAh battery. It also has a new single-touch fingerprint technology and EMUI 3.0.

Sri Lanka is the fourth foreign country the phone has entered, following successful launches in Paris, Berlin and Bangkok this month.
Singer Sri Lanka is the country's number one smartphone marketer, and through its exclusive partnership, will make Hyawei Ascend Mate7 available at over 400 of Singer subsidiary retail outlets for Rs. 69,999 with a two year Singer Warranty.Huawei, founded in by 1987 by ex-People's Army Officer Ren Zhengfei has achieved unparallel success within just 20 years, becoming a leading Information Communication Technology equipment and solutions provider in the world.