---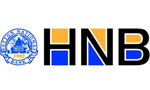 Hatton National Bank PLC (HNB), Sri Lanka's second largest private bank in terms of assets, saw its net profit for the quarter ended September 30, 2014 (3Q14) improving 7 percent year-on-year (yoy) to Rs.2.51 billion, the interim financial accounts released to the Colombo Stock Exchange showed.
The earnings per share (EPS) for the quarter also improved to Rs.6.28 from Rs.5.89. For nine months ended September 30, 2014 EPS stood at Rs.15.40 up from Rs.14.47 same period previous year with a 6 percent increase.
Commenting on the performance over the period HNB Chairperson Dr Ranee Jayamaha, said, "the industry witnessed the much anticipated acceleration in credit growth during the third quarter and HNB too recorded a strong growth reinforcing its lead position."

"Third quarter saw net loans and advances of HNB increasing by Rs.14.7 billion driven by concerted sales efforts in corporate, SME and retail segments. On a year-on-year basis, net loans and advances of the bank recorded a 9.3 percent growth surpassing the industry growth rate for the period, in spite of a drop of Rs.24 billion in the pawning portfolio of the Bank," she added. The net interest income during the quarter however fell 5 percent yoy to Rs.6.16 billion. The interest income declined 6 percent yoy to Rs.15.44 billion while interest expenses fell 11 percent to Rs.12.66 billion. The net interest margin improved to 4.58 percent from the previous quarter's 4.10 percent but narrowed from 5.09 percent nine months ago. Net fee and commission income rose 9 percent yoy to Rs.1.09 billion. For the 9 months, fee and commission income rose 16 percent yoy to Rs.3.3 billion. The biggest boost to the banking group's finances during the quarter was an other operating income of Rs.1.8 billion, which rose 72 percent yoy. For the 9-months ended September 30, 2014 too, other income rose 30 percent yoy to Rs.4.42 billion. Nine-months performance of the bank was further boosted by Rs.1.1 billion gain originating from sale of shares in Visa Inc. and MasterCard Incorporated by the bank in 2Q14.
The bank in 3Q14 booked Rs.32.3 million under net gains from financial investments. The notes attached to the interim accounts said Sithma Development (Pvt) Ltd, the bank's fully-owned subsidiary disposed its stake of 49.99 percent in Splendor Media (Pvt) Ltd on November 7. HNB CEO/ Managing Director Jonathan Alles stated that "through our strategic intent on enhancing fee income and operational efficiency, we successfully improved our cost to income ratio to 48 percent during the period under review, notwithstanding a drop in interest margins.""Going forward, we believe that the investments made to upgrade technology and to improve the electronic banking platform as well our continuous focus on streamlining processes would result in realising greater benefits and together with the expectation of credit growth to pick up in the coming months, we would be able to record far superior results," he added.For the 9-months, the bank reported a consolidated net profit of Rs.6.16 billion, up 7 percent yoy. Expenses during the quarter increased 2 percent yoy to Rs.4.84 billion, with personal expenses increasing 3 percent yoy to Rs.1.97 billion. Tax expenses increased during the quarter under review to Rs.933 million which is a 60 percent increase yoy. For the 9 months, expenses increased 14 percent yoy to Rs.14.28 with personal expenses surging 33 percent yoy to Rs.5.94 billion. The total assets of the bank in the 9 months of FY14 grew 9 percent to Rs.571.1 million.

The bank reported a modest 4 percent credit growth for the 9 months with the loan book growing to Rs.367.7 billion.The deposit base of the bank as at September 30 stood at Rs.405.3 billion, up 5 percent. Meanwhile, the asset quality of the bank slightly deteriorated to 3.71 percent from 3.64 percent as at December 31, 2013.

"Aggressive recovery efforts initiated by the bank coupled with provision reversals made on account of pawning during the period, resulted in an improvement in the provision for impairment to Rs.2.6 billion from Rs.3.1billion for the corresponding period last year. This impairment provision also included the interest written off on pawning which was netted off against the interest income during earlier reporting," the bank said in a statement.

The bank's Tier I and Tier II capital adequacy ratios remained at 12.05 percent and 15.13 percent respectively, well above the minimum requirements.
The largest shareholder of the bank as at September 30, 2014 was Sri Lanka Insurance Corporation with 14.84 percent followed by Employees' Provident Fund with 9.92 percent.

In November 2014, HNB acquired 51 percent stake in voting rights of Prime Grameen Micro Finance Ltd at a purchase consideration of Rs.660 million, and this investment is expected to contribute towards strengthening the group performance further.