---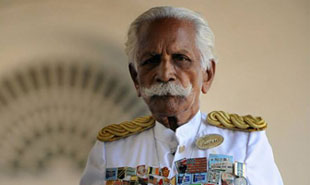 Kottarappu Chathu Kuttan, the iconic doorman at the Galle Face hotel who made history for being one of the oldest hotel employees in the world, passed away yesterday.In honour of a personality that cannot be forgotten, the hotel observed a minute's silence. Kuttan has lived to see the many changes in the hotel and in the country. He joined Galle Face Hotel during the latter part of the British rule in Sri Lanka. Kuttan's career which began as a restaurant waiter was followed by becoming the hotels prestigious usher, Kuttan was an integral part of the hotels operations.
His ability to recognize almost all faces of frequent visitors, was a hit amongst many guests commented the Management of Galle Face Hotel.Reminiscing of the good memories with Kuttan, the team of Galle Face Hotel further mentioned, "His welcoming broad smile and hands raised to say "Ayubowan" (may you live longer), was always a symbolic sight at Galle Face Hotel. He will surely be missed by all of us. Kuttan was more of a family member and a graceful figure that many of us were greeted to on a daily basis."

"Kuttan celebrated his ninety fourth birthday on February 15 2014, and was eager to share the celebrations of 150 years of Galle Face Hotel. Since he served the hotel for over seventy years, he was an essential part of the Galle Face Hotel's culture and value system." In condolences commented Sanjeev Gardiner, Chairman of Galle Face Hotel Group.Speaking at a recent interview with a leading Sunday Paper, Kuttan said, "I was helped to get this job in 1949, 13th May, by a police constable. The hotel was exclusively for foreigners, the only locals who visited were Sir John Kotalawela, Sir Francis Molamure, and the present owner's great grandfather." Kuttan when recalling his memories as a waiter said he had served dignitaries like Lord Mountbatten, Princess Elizabeth, Pandit Jawarharlal Nehru, Gandhi and Arthur C. Clarke.