---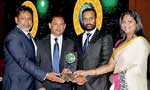 CL Synergy is a pioneer in providing integrated innovating logistics and freight forwarding solutions.

Attesting to the excellence that the company has achieved so far, CL Synergy was awarded the prestigious "Global Commerce Excellence Award" for 2014.




The Awards, organized i n association with the Central Bank of Sri Lanka, by the Chamber of Commerce and the Shippers Academy, was held last December at the Galadari Hotel Colombo.

"We are honoured to receive this Global Commerce Excellence Award," said Roshan Silva, Managing Director of CL Synergy. "As an integrated logistics service provider, it is ingrained in our ethos to try our utmost to be innovative, definite and go the extra mile to ensure that our clients are content. We are pleased to know that those efforts have been recognized in the form of an Excellence Award."

CL Synergy was also recently chosen by the Joint Apparel Association Forum (JAAF) as one of the preferred logistics solutions providers. The regional presence of CL Synergy has also been strengthened due to its allegiances with 123 companies worldwide.

Speaking at the event, Rohan Masakorala, Chairman of the organizing committee and CEO of the Shippers' Academy in Colombo said that the 'concept of Sri Lanka becoming a global hub is based on the success and excellence in international commerce. "The Global Commerce Excellence Award recipients are among such companies who have supported the growth of our economy over a period of time and have excelled in their respective fields," he said.

The event also facilitated and recognized the work by state institutions that embarked on trade facilitations and served as an impetus drive to strengthen the economy.