---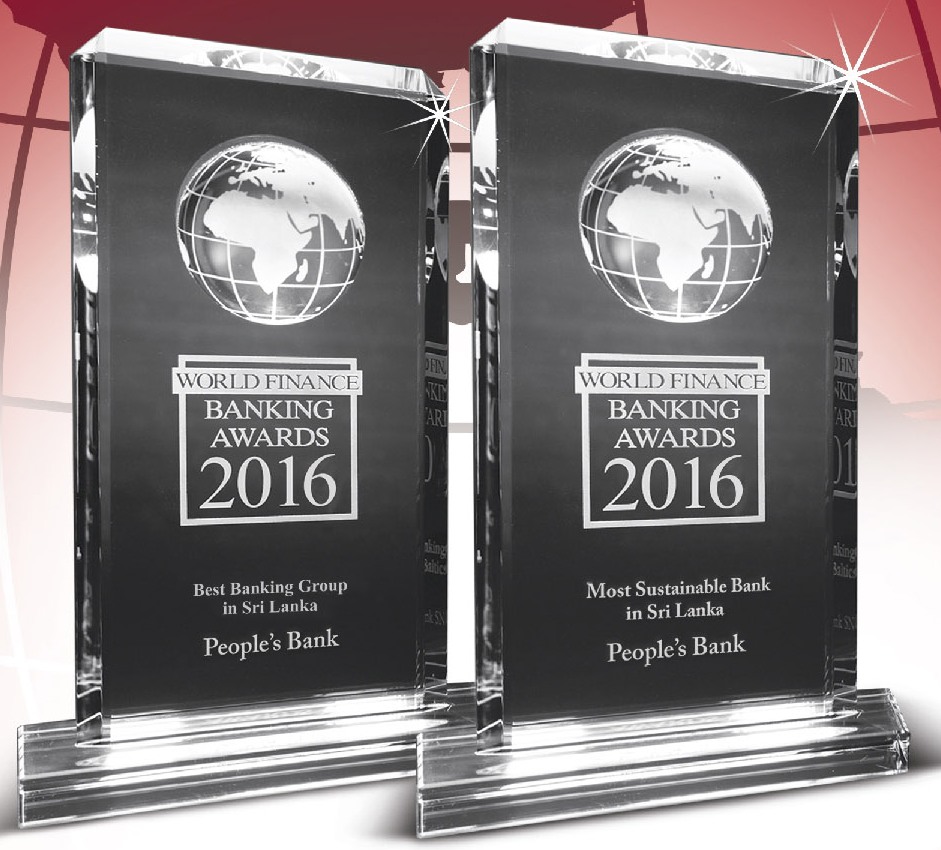 Sri Lanka's revolutionary bank responsible for transforming the country's economic and social sectors, People's Bank, has yet again been awarded the 'Best Banking Group 2016 - Sri Lanka' and 'Most Sustainable Bank 2016 Sri Lanka' by the World Finance magazine at the World Finance Banking Awards for the year 2016, making it the consistently third occasion on which it has received this prestigious honour. People's Bank has consistently spearheaded the banking industry towards a more robust future. The awards were received by N. Vasantha Kumar, CEO/General Manager, People's Bank, and Mahinda Premanath, Deputy General Manager (Banking Support Services).
Commenting on the accolades, N. Vasantha Kumar, CEO/General Manager, People's Bank said, "We are proud to receive this honour from the globally reputed World Finance magazine for the third time, which reflects our wealth of banking expertise which is driving our growth across all our segments. These awards are a genuine testimonial to our commitment to uplift the national economy by providing financial services across small medium and large scale sectors. During our over 50-years of operations, People's Bank has pioneered many products and services. The bank now enjoys a largest banking network of 740 branches and 500 ATMs. Our digitalization drive and environmental sustainability commitment are taking us closer to becoming one of the greenest banks in the country. The World Finance Awards underscores the sustainability of our growth strategy."
The annual World Finance Banking Awards recognize industry leaders, eminent individuals, exemplary teams and distinguished organizations which represent the benchmark of achievement and best practices in a variety of fields. Award winners and nominees are selected by a judging panel with a combined 230 years of financial journalism experience, as well as by readers and subscribers of World Finance Magazine, which is published by UK-based World News Media Ltd.
The World Finance Banking Awards recognized People's Bank for the institution's internal and external performance; finance ratios, array of products and services; customer relations management systems, sales and growth and competitive strategy.
As the leading bank in Sri Lanka, People's Bank has leveraged on its highly sustainable model and financial soundness to extend its services beyond banking into corporate social responsibility initiatives in the community.