---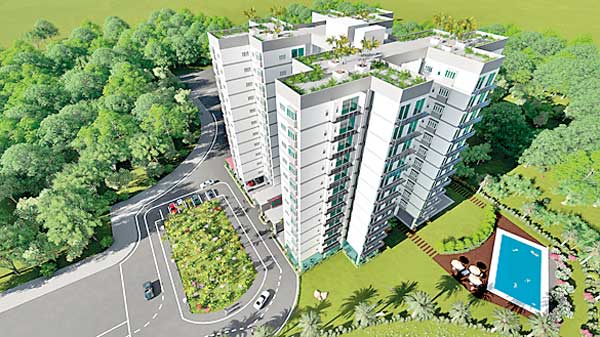 Nivasie Developers, the pioneering property developer and a fully-owned subsidiary of International Construction Consortium (ICC), commenced its sixth housing project, following the success of its 12- story apartment in Malabe, which will be occupied by homeowners in May 2016.
The second apartment project at their very own site in Malabe is inspired by growth in demand for residential properties in the area and the launch of phase II of apartments by Nivasie and ICC is a reality for those aspiring towards a suburban lifestyle.

The 'Orchid Apartment Phase II' is sheer tranquillity, surrounded by lush foliage and fields of greenery, and consists of 148 apartment units including six duplex apartments creating a homely atmosphere.

The master bedrooms feature bay windows which increase the flow of natural light with a spacious balcony overlooking a scenic panoramic view. The project delivers a comfortable and serene lifestyle for residents with ease of access to leading schools, offices, universities, supermarkets, a hospital and the outer circular expressway. The 12-storied building boasts of modern living at a convenient location in a calm and quiet eco-friendly environment.

The Orchid project popularly known as the modern village in Malabe consists of 170 contemporary houses with beautifully landscaped areas and a twelve-story apartment of 94 units on a 22-acre land. The houses and apartments are owned by high-class professionals such as doctors, lawyers, engineers, businessmen and peacefully retired couples. The surrounding and the neighbourhood is prestigious and of high value.

Orchid apartment phase II surpasses average facilities with a swimming pool, modern gymnasium, 24-hour gated security, back-up generators and three elevators. The kitchens consist of a modern pantry made of high-quality products with access to main water, electricity and gas. Additionally water heaters, smoke and heat detectors with provisions for air conditioning are available in every apartment. Each floor will have access to the garbage chute with a collection point on the ground floor. A state-of-the-art sewage treatment plant is also available. It's absolutely a turnkey operation. A well maintained home assured of a sustained growth of investment overtime.
Malabe is one of the fastest growing suburbs in Colombo, much in demand, due to the increase of leading universities such as the Sri Lanka Institute of Information Technology (SLIIT), SAITM Medical and Engineering University, Horizon International School and University and the Colombo International Nautical and Engineering College (CINEC Maritime Campus). As a matter of fact, Malabe is a hub for higher education, information technology and medical science and is earmarked for high-ranking proposed government projects in the future. Travel time has also been shortened with a network of new roads and highways leading to all parts of the country.

Nivasie Developers backed by ICC has proven beyond a doubt its capabilities as one of the largest and most reliable in the real estate industry spanning over 15 years in developing horizontal and vertical space in dwellings endorsed by its large client base of over 2000. The company believes in fast delivery and construction is begun immediately upon outright purchase of the land which guarantees ownership. One of the most important aspects of the development is the priority given to the time of completion. The homeowners will be able to occupy their apartments by December 2017.
The construction will be carried out by ICC, which has a history of three decades constructing roadways, infrastructure, residential and commercial high rise buildings. ICC has seen a rapid and sustained rise in its development to the present position as one of the leading building and civil engineering organisations in Sri Lanka. ICC has developed its systems to international standards and has obtained ISO 9001, ISO 14001 and OSHAS 18001 accreditations.

Purchasing an apartment unit or a second house is a popular investment practice in the current economy. Owing to its location and the gamut of benefits that the company has offered to the customer, the completed projects by Nivasie Developers yield a good return on investment to the customers upon reselling, as the houses are in high demand.

The apartments ranging from Rs.9.8 million upwards could be reserved with an initial deposit of Rs.500,000. Flexible interest-free payment options are available during the construction period. Additionally, bank loan facilities will also be available for interested homeowners.