---
The Mercedes-Benz Pageant, an event where more than 500 Mercedes-Benz cars, their owners and families get together for fellowship at one location, will take place on April 30 at the BMICH.
The pageant is organised by the Mercedes-Benz Club of Sri Lanka and is sponsored by Diesel & Motor Engineering PLC (DIMO) – the only authorized distributor for Mercedes-Benz in Sri Lanka.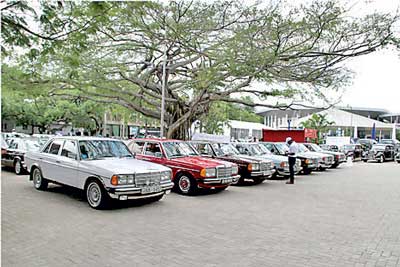 The Mercedes-Benz Club comprises of some die-hard and passionate individuals of the three-pointed star, who take pride in organising this event every year. No other automobile franchise in Sri Lanka can boast of an event such as this and no other luxury car franchise can come even close to having this many Classic and Young-Classic cars.
Driving-in, in a Mercedes-Benz is the exclusive pass to the Mercedes-Benz Pageant – irrespective of the model, age, condition and even the type of Mercedes-Benz vehicle.
The pageant will be open to Mercedes-Benz cars driving-in at 7:00 a.m. on Saturday and will be open to the public at 10:30 a.m.
Mercedes-Benz owners and their families will have the opportunity to witness Mercedes-Benz vehicles from pre-war era to the latest, including the flagship Mercedes-Benz AMG GTS. A highlight of the event will be the displaying of the new GLE-Coupe and the all new mammoth GLS. In addition, there will be many exciting activities for kids, teenagers, ladies and gents. There will be many games of skill, where customers and their family members can stand the chance to win prizes from DIMO.
This event also provides the opportunity for Mercedes-Benz enthusiasts to experience most of the Mercedes-Benz cars in Sri Lanka, at one place. They can interact with the other owners and exchange information and knowledge.