---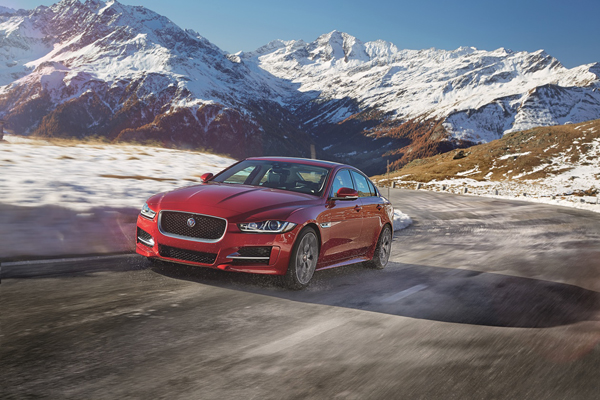 • Jaguar XE impresses throughout all safety categories, scoring an incredible 92 per cent for adult occupant protection
• Standard safety equipment on all XEs includes Active Bonnet, Autonomous Emergency Braking, Lane Departure Warning and front and side airbags
• The XE – now available to order in the Sri Lanka – is also one of only seven models shortlisted for European Car of the Year 2016
The Jaguar XE has scored another victory over its rivals to be rated the safest large family car on sale by crash safety testing body, Euro NCAP. It's the latest in a long line of successes for the XE which is also included on the shortlist for the prestigious European Car of the Year (ECOTY) title for 2016.
During Euro NCAP's stringent crash safety procedures, the XE was consistently strong, scoring maximum points in the side barrier impact test for adult occupant protection, giving the XE an impressive 92 per cent overall in the category. It's a testament to the inherent strength and stiffness of the XE's innovative lightweight aluminium-intensive architecture.
"Euro NCAP gives top honours to the Jaguar XE which offers the highest levels of occupant protection and avoidance technology, and rewards the XE as Best in Class of 2015 in the large family segment. Euro NCAP particularly congratulates Jaguar for making all important safety assist features standard equipment."Michiel van Ratingen, Secretary General, Euro NCAP.
The XE's status as the safest car in its class comes shortly after a panel of 58 motoring experts from throughout Europe shortlisted the XE to be one of only seven cars in contention for the European Car of the Year 2016 title. Its benchmark driving dynamics, dramatic Jaguar design and efficient Ingenium engines have already helped the XE win 23 global awards to date.
Jaguar Land Rover UK Managing Director Jeremy Hicks said: "The Jaguar XE has already been widely praised by the world's media and by our customers as being a benchmark model for its design, handling and low cost of ownership figures, and we're thrilled to now add Euro NCAP rated best-in-class safety to that list. The Euro NCAP tests are extremely thorough, and the competition in this class is formidable, which makes this latest accolade an outstanding achievement."
For more information about the Jaguar XE and to arrange your test drive, visit the Jaguar dealership in Flower Road or contact us or call 2552444.