---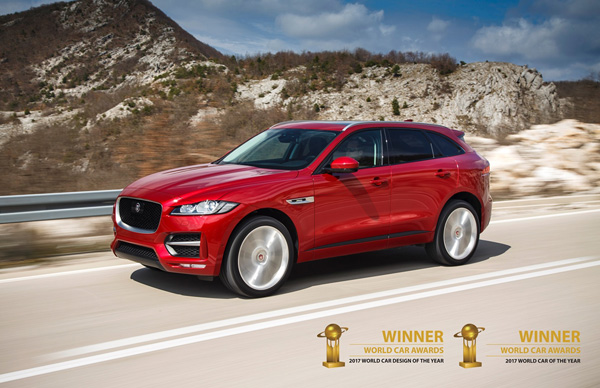 • F-PACE winstwo titles at 2017 World Car Awards
• Jaguar's first performance SUV takes2017 World Car of the Year title
• Also wins World Car Design of the Year prize
• The F-PACE is Jaguar's fastest selling global model
• Jaguar is Europe's fastest-growing car brand
The Jaguar F-PACE is officially the best and most beautiful car in the world afterdouble success at the 2017 World Car Awards, scooping the prestigious World Car of Year and World Car Design of the Year titles.
The performance SUV is the fastest selling model Jaguar has produced and is only the second vehicle to claim the historic double in the 13-year history of the World Car Awards.To win the pair of trophies, the F-PACE saw off the competition in a vote of 75 influential motoring journalists from 24 countries.
Dr Ralf Speth, Jaguar Land Rover CEO, said:"The F-PACE was designed and engineered as a performance SUV with exceptional dynamics, everyday usability and bold design. Winning this award endorses the talent and great work of our teams that have delivered the world's most practical sports car and Jaguar's fastest-selling vehicle".
The awards brace is the first overall success for Jaguar at the World Car Awards. The XE sports saloon was a finalist for the 2016 World Car Design of the Yeartitle. The F-PACE triumphed over finalists the Audi Q5 and Volkswagen Tiguan to claim the 2017 World Car of the Year prize.
Ian Callum, Director of Design, Jaguar said: "The F-PACE is our first ever SUV but it is clearly recognisable as a Jaguar and for it to win the 2017 World Car of the Year trophy vindicates our decision to bring our unique design principles and dynamic qualities to a new sector of the market."
The World Car Awards jury comprises influential motoring journalists and to win the 2017 World Car Design of the Year prize the F-PACE saw off the Mercedes-Benz S-Class Cabriolet and Toyota C-HR in the final three.
Mike Rutherford, Juror, Director and Vice-Chairman of the World Car Awards/World Car of the Year said:"Jaguar has done the unthinkable by first securing the World Car Design of the Year award, then lifting the big one - the overall World Car of the Year trophy. With F-PACE, the British company and its proud and talented workers have taken on and beaten far bigger, wealthier European, Asian and North American rivals."
The F-PACE is Jaguar's first performance SUV and has contributed to record sales growth by attracting new customers to the brand.
Engine options for the F-PACE range from the efficient and innovative four-cylinder 2.0-litre Ingenium diesel, with CO2 emissions as low as 126g/km* to the high-performance 380PS, supercharged V6 petrol model that can accelerate from 0-62mph (0-100km/h) in just 5.5 seconds.
The last 12 months have seen the launch of three completely new product lines, and successful growth across many of Jaguar's existing products. Sales are still increasing strongly and Jaguar is now Europe's fastest-growing car brand.