---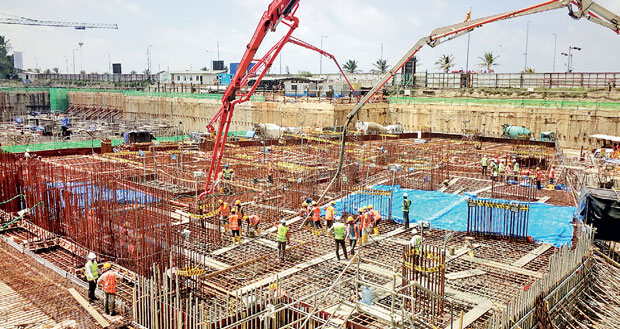 A large pour of concrete of quantum 5500 cubic meter is done for the hotel tower raft at ITC One Colombo One project located adjacent to the Taj Samudra hotel, Colombo-01 starting on 29th September.

This concrete pour is the second largest concrete pour in the history of Sri Lanka and the same team did the first one (6500 cu.m- the largest concrete pour) in August 2017.

ITC One Colombo One project is a mixed use development project of two tall towers on the Galle Face road, consisting of 135 units of high end residential apartments in a 224 meter tall tower and a five star hotel of 350 keys in another tower of 140 meters tall. The project has a unique feature of a sky bridge with a swimming pool at 100 meters height connecting the Residential Tower with the Hotel Tower.

The contractor M/s Larsen and Toubro Limited from India appointed by the owner Welcom Hotels Lanka Private Limited in January'2017 .The Hotel Tower which is 30 floors tallis being constructed by the subcontractor M/s Nawaloka Construction Company (Pvt) Ltd (NCC), one of the reputed Sri Lankan engineering construction company.

This concrete pour is alsodone with a special mix design of C50 grade concrete, the ingredients proportion designed especially for this purpose to cater the temperature and durability requirements of foundation and mass concrete.The concrete pour has 660 MT of reinforcement work with a height of 2.75m. Concrete core temperature of 70 degree celsiusis maintained throughout. The concrete was meticulously planned in segments for operational ease and planned on a weekend to avoid traffic inconvenience to the neighbors and general public.

Utmost care was taken in safety of the concrete pouring operations including risk assessment and communication, Pre-task briefings,strict traffic management, workmen welfare. Safety requirements such as emergency arrangements including the Ambulance and Male Nurse, work permit system were also meticulously followed. Adequate Lighting arrangements, rain precautions, provision of safety equipment's were ensured and this has been witnessed by the District Factory Inspector from Labour Department who inspected the site on 29th September.

We thank all our stake holders who have extended their unconditional support for making this second largest pour a grand success.The credit of the continuous successful endeavors rests with our esteemed Client M/s Welcom Hotels Lanka Private Limited, sub-contractor M/s Nawaloka Construction Company Pvt Ltd, the various government authorities - BOI, CMC, Labour commissioner, Traffic departments, Police, the Sri Lankan Army, all authorities, designers and consultants, all the RMC players and the stakeholders.

This second pour is also our humble dedication to the wonderful people of Sri Lanka who motivate us to give our best in this project.