---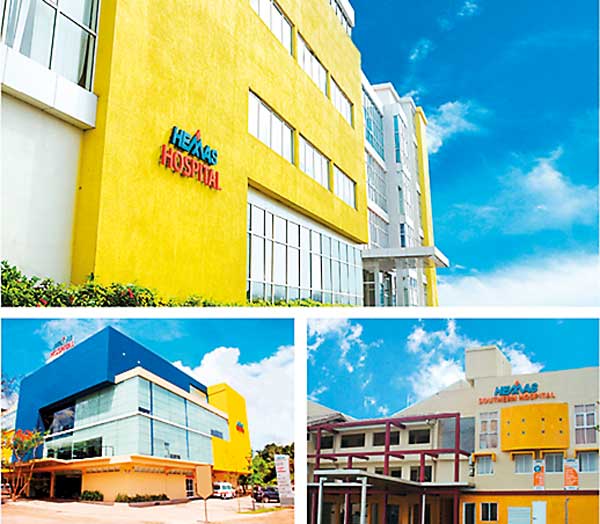 In a path-breaking endeavour, Hemas Hospital Thalawathugoda opened their state-of-the-art Sports Medicine Unit last year, having received an increased number of patients with sporting injuries, since the hospital's inception.

Today, the Sports Medicine Unit has become the go-to destination for the treatment of injuries related to sports and exercise for both professional players and amateur practitioners, affirming its pioneering position as the champion of sports medicine in private healthcare.

With greater participation in sports and fitness regimes, Sri Lanka has seen a healthy rise in physical fitness as well as competitive sports. With this in mind Hemas Hospitals started their non-surgical treatments for sports injuries, pains and aches, at their Thalawathugoda Centre.

Headed by Dr Dhammika Senanayake – Specialist, Sport Medicine and Sports Injury Management, the unit has the full spectrum of treatment options with rehabilitation care related to injury during sports, including ankle pain, groin pain, hamstring strain, knee injuries, tennis elbow, these being some of the most common injuries for exercise and sports players. Service also includes
physiotherapy and a holistic approach to treat patients, by a team of qualified and skilled staff.
Sharing his thoughts on the unit, Dr Senanayake went on to note "We provide a wide range of sports medicine services at the unit including physiotherapy services, which fulfills the requirements of patients – from basic back and neck injuries to rehabilitation following a stroke, or degeneration due to auto-immune diseases. Our exercise-oriented rehabilitation backed by the latest techniques in the field, allows patients to restore maximum movement and functional ability fast."
"The Centre offers in-home physiotherapy services too" added Dr Senanayake, while going on to explain that physiotherapy services can be obtained in the comfort of one's home, all provided by certified, specialized and experienced physiotherapists.

The Sports Medicine Unit is open to the general public throughout the week and provides comprehensive healthcare facilities on appointments - for injury treatment, exercise prescription, fitness assessment, routine physiotherapy, medical assessment for school athletes and sports massages by well-trained sports masseurs. Director/ General Manager of Hemas Hospital Thalawathugoda, Dr Chamila Ariyananda, commenting on their Sports Medicine Unit, said "The goal of our sports medicine unit team is to bring you the very best care in the area of sports medicine and orthopedics by carefully selecting specially trained staff, utilizing state-of-the-art technology and facilities and applying the latest medical techniques. We are dedicated to being the premier provider of sports related medical care".
Hemas Hospitals pioneered community based healthcare services in the country by positioning its chain of hospitals in strategic locations outside the commercial hub of Colombo. Hemas Hospitals Thalawathugoda commenced operations in 2013 to provide expert healthcare services of international standards to the communities around.