---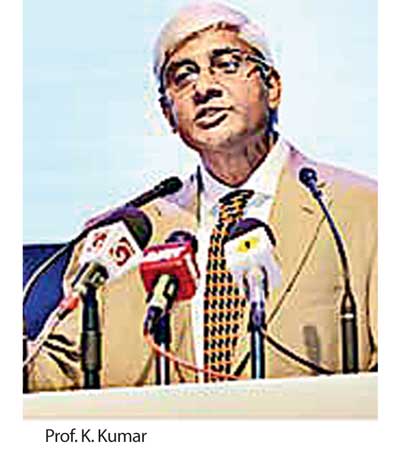 By Chandeepa Wettasinghe
The chartered accountants were treated to an Entrepreneurship 101 lecture at the 37th National Convention of Chartered Accountants, where the theme was 'Unleashed Thinking: Entrepreneurship and Intrapreneurship'
.
Chartered Accountants National Conference Committee Chairman Tishan Subasinghe said that since its members are trained to be risk-averse, it was pertinent to explore how accountants like Finance Minister Ravi Karunanayake and Development Strategies and International Trade Minister Malik Samarawickrama became entrepreneurs and emulate them.

The keynote speaker, Indian Institute of Management, Bangalore Apeejay Surrendra Family Business and Entrepreneurship Chair Professor K. Kumar noted that structured planning and avoiding risks are the complete opposite of what entrepreneurs do.
"Entrepreneurs work based on the means that are available to them and then constantly they work to create certain things and finally they create something of value, where you look back to the past, it's a complete mess," he said.
He noted that how entrepreneurship is portrayed on popular media is misconceived.

"All of them will have a business plan writing competition as if it is the starting point of entrepreneurship but what we know from research is, that is not true. Entrepreneurs do anything but plan. It's a messy process," he noted.
He did not venture to guess whether such entrepreneurial spirit is pertinent for government policy or creating a government budget.
He said that entrepreneurship is the process of linking limited resources with a need of a customer under very trying conditions.

"Conditions of very limited resources, conditions where you don't even worry about what resources you have under your control. When I mean resources, it could be money, could be knowledge, could be people, could be anything," Prof. Kumar said.

He noted that the embodiment of entrepreneurship can be seen in Israel, where a small country, surrounded by unfriendly nations, started to innovate based on a national necessity.
However, 85 percent of seed funding for Israeli entrepreneurs are provided by the government, which in turn receives massive US funding.
Prof. Kumar said that Israelis practice 'unleashed, wild thinking'.

"How is that possible when you don't have resources and you're creating something? That is where unleashed thinking comes, where you do using creative innovation," he added.