---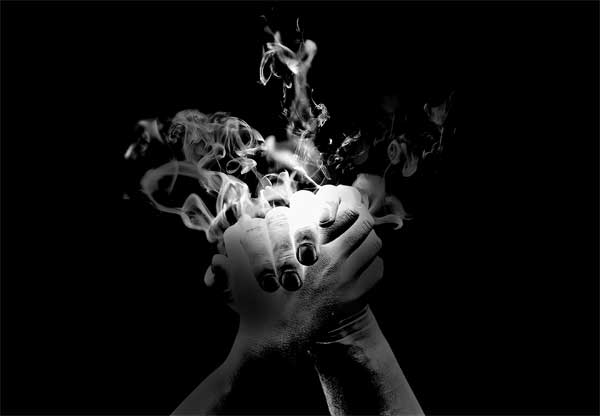 "Wine and tobacco destroy the individuality. After a cigar or a glass of vodka you are no longer Peter Sorin, but Peter Sorin plus somebody else. Your ego breaks in two: you begin to think of yourself in the third person."

- Anton Chekhov
---

"She doesn't smoke doctor, but I do"; a distressed husband lamented. Yes, the husband had smoked a packet of cigarettes a day through their married life of 23 years. The wife had been inhaling a lot of cigarette smoke through 'passive smoking'. This was revealed when a forty-six year old deputy-principal in a girl's school in the North Western Province called her general practitioner to complain about an irritating cough. As the basic medication did not answer, the doctor suggested other tests which diagnosed lung cancer. Passive smoke or 'secondhand smoke' is the smoke generated by burning tobacco products and inhaled by others. Smokers not only kill themselves but also cause the deaths of innocent people who inhale second hand smoke that carries many toxins.

A proud board of directors of the marketing institution of the deadly 'smokes' in their annual financial statement to its shareholders affirms that in spite of a drop in sales, the company had achieved higher margins of profits in the financial year.

Intimidate tactics against governments
The latest strategy by tobacco companies is to threaten governments that implement tobacco control measures with litigation.
"In recent years, multinational tobacco companies have been shamelessly fuelling a series of legal actions against governments that have been at the forefront of the war against tobacco. The industry is now stepping out of the shadows and into court rooms". --Dr Margaret Chan, in a press release on World No Tobacco Day, 2012

The industry intimated direct and indirect legal action. They did it in Sri Lanka a few months ago, contesting the Health Minister's regulations on covering 80 per cent of the cigarette pack with Graphic Pictorial Health Warnings [GPHW]. Tobacco manufacturers have had a strong influence on every government in Sri Lanka. An NGO backed by the tobacco industry in the US hosts seminars in exotic destinations for legislators, bureaucrats and even judicial officers. Some judges in the USA who attended these 'thamashas' have subsequently made decisions favouring the industry in product liability cases against cigarette manufacturers. Several unethical and illegal attempts were made in Sri Lanka as well to undermine the fight against tobacco. In unearthing such practices people -friendly responsible media is doing a great service. Educating the general public on the risks of direct and passive smoke and the consequential serious harm to the health and economy of the people needs to be intensified.
After killing people through direct and passive smoking, tobacco companies have turned to e-cigarettes


Compensation
Remember the land mark judgment by a USA courts in the 1990s, under the Master Settlement Treaty[MST], awarding millions of dollars to victims of tobacco smoke? In one of the secret documents unearthed during the hearing of the tobacco giant, Philip Morris Co., that was later published revealing their secret schemes;one statement says,

'…sometime we will need to speak as scientists, scientific groups and businessmen; at other times we will talk as the industry; and finally we will speak as the smoker'.

A legally binding treaty of nations formed in 2005 styled, 'Framework Convention on Tobacco Control' [FCTC], of which Sri Lanka became an early signatory, today boasts of a membership of 172 nations in holding a great promise for the future. Applying Goebbels's phenomenon effectively, the industry repeat a lie many times discrediting well established medical concepts and opinions on health hazards of smoking. The smoke can stay in an enclosed area for long hours even with ventilation as the toxins remain on curtains, clothes, carpets and upholstery.

The health hazards vary according to type of tobacco, the chemicals added, the way the tobacco product is smoked, and the wrapping material used. The US Environmental Protection Agency, National Toxicology Programme, U.S. Surgeon General, and the International Agency for research on cancer have unequivocally declared passive smoking as cancer-causing . Researchers observe that passive smoke increase the risk of cancer in sinus cavity, naso-pharyngeal, lymph mania, leukaemia, and tumors in children. Scientists believe passive smoke that is filtered through someone else's lungs that contain carbon monoxide, hydrogen cyanide, formaldehyde and nicotine is more dangerous than direct smoke.

In developed nations; hard-hitting media campaigns, smoke-free space policies, high excise taxes, widespread tobacco control programmes and evidence-based mediations are enforced to encourage giving up the habit.

Effects on babies and the Marlboro mystery
The lungs of kids and babies are still developing and can get easily damaged from second-hand smoke; Babies inhale more smoke because they breathe quicker than adults. They are greatly open to the threat of bronchitis and pneumonia. They also suffer from ear contagions due to fluid buildup inside the ear.
The 'mafia' trapped millions through the Marlboro campaign in the USA which attracted adolescents and school leavers. The Marlboro brand owner, Altria Group controls half of the over $100 billion tobacco industry in the US. Their agents, Leo Burnett launched the handsome 'Marlboro Man' puffing on a Marlboro cigarette, while sitting on a well groomed horse. It was a most effective brand image in one of the highly successful advertising campaigns of the last century. Leo Burnett created the Marlboro Man, an image of the legendary cowboy depicting of a 'strong male', independent, successful and tough indicating that the brand of cigarette can accomplish all this.Three men who portrayed Marlboro Man, David Miller, David McLean and Wayne McLaren all suffered lung cancer and died within eight years. The fourth, Eric Lawson, the rugged cowboy who was portrayed on Marlboro packets, died from Chronic Obstructive Pulmonary Disease (COPD), at the age of 72, only six months ago.

We convey our respects to the families of the celebrities, but warn all those who support the tobacco mafia that spread an absolute fallacy that giving up smoking is more difficult than reversing a heroin addiction. The industry claims that it is the people's free will to smoke. They state that nobody forces smokers to smoke and they claim that everybody can quit smoking whenever they want, thereby totally omitting or deliberately ignoring the addiction element.

The European finance director of a local subsidy of the multinational British American Tobacco, [BAT] , in an interview with a state newspaper [17/10] a few days ago boasted about his company's performance. He said:

" …had contributed an overall figure of Rs. 76.5 billion as at 2013 towards government revenue and this company is definitely set to remain the single biggest contributor to government revenues in the country. …there is a considerable quantity of social contribution that takes place through ….. has attained a distinguished presence for over 110 years in Sri Lanka and is considered a well-established enterprise that has functioned through the repertoire of success story after success story…we are currently the second highest valued company in the Colombo Stock Exchange".

He went on to explain their strategy to meet the challenge in graphical health warnings; "This is a change that has to be managed in a time when consumers tend to become more demanding. He also said, "…I have also been to Polonnaruwa and visited tobacco leaf farmers who are doing well".

However, in a study undertaken by a team of academics headed by Prof. H.M.S. Priyanath, of the Sabaragamuwa University in collaboration with the Agrarian Research Foundation for NATA Bloomberg Project in 2009 on tobacco farming and socio-economic impact and status of farmers it is reported:

"…the farmers said that the attractive incentives offered by the tobacco company had attracted them to tobacco cultivation…" pp 11. -- 'Continuing tobacco cultivation for three to four years adversely affected the soil fertility'- pp15.-- 'Stacking tobacco leaves inside homes caused air pollution resulting in many health hazards, especially among the children…'pp 16. -- 'As there was no other buyers the farmers had no option but to sell at the price offered by the company.'—pp 17 --'A farmer said, "We would not grow tobacco again, we are not happy to talk about it even for research. The farmer was a slave of the company "' –pp 18/21

Latest 'scam'; Electronic or e-cigarettes
"We will also look at introducing e-cigarettes to Sri Lanka as part of our due diligence…"--finance director of the CTC.

Electronic or e-cigarettes are battery-operated products designed to deliver nicotine and other chemicals for smokers to smoke without the flame, tobacco, tar, carbon monoxide, ash, stub, smell and all the other chemicals found in traditional cigarettes.They turn highly addictive nicotine, into an aerosol to be inhaled by users. The potential risks of e-cigarettes when used as intended or how much nicotine or other potentially harmful chemicals are being inhaled; whether there are any benefits associated in using these products remains to be answered.

A recent report in the New York Times reads: "A dangerous new form of a powerful stimulant is hitting international markets for sale by the vial, the gallon and even the barrel.The drug is nicotine, in its potent liquid form — extracted from tobacco and tinctured with a cocktail of flavorings, colorings and assorted chemicals to feed the fast-growing electronic cigarette industry". "These key ingredients in 'e-liquids', in e-cigarettes, are powerful neuro toxins, tiny amounts, whether ingested or absorbed through the skin, can cause vomiting and seizures and even be lethal. A teaspoon of even highly diluted e-liquid can kill a small child".

The health authorities should be vigilant on this latest move by the killers and 'nip it in the bud'
[email protected]