---

High-level movements across the Asian diplomatic chess board in the past two weeks have once again brought to the surface the undercurrents in Asian politics. The movements involved Chinese Prime Minister Li Keqiang's visit to India and Pakistan two weeks ago, Sri Lankan President Mahinda Rajapaksa's visit to China this week and Indian Prime Minister Manmohan Singh's visit to Japan, also this week.

The visits indicate who is going which way with whom and for what. By making the India visit his first foreign trip after assuming office in March, Li underscored how important India was to China. In fact, the visit helped defuse growing tensions over a territorial dispute. The dispute even led to the cancellation of India's External Affairs Minister Salman Khurshid's trip to Beijing.

But Li's visit helped repair the damage caused to the relations between the two countries which fought a major war in 1962 over the border dispute.

At India's independence, the relations between the two countries were cordial and bound by the zeal to promote Afro-Asian solidarity and oppose colonialism and imperialism. In 1954, the year in which the famous Bandung Afro-Asian solidarity conference was held, China agreed to an Indian proposal to respect Pancha Sila or the five principles in their relations. The five principles were: Mutual respect for each other's territorial integrity and sovereignty; non-aggression; non-interference in each other's internal affairs; equality (and mutual benefit) and peaceful co-existence.

China played a key role at the 1954 Bandung conference with Prime Minister Zhou Enlai heading the delegation even though he survived what Beijing insisted was an assassination attempt by the Chiang Kai Shek-led nationalists on his way to the summit meeting. The Air India plane, Kashmir Princess, which China had chartered to take Zhou to Bandung exploded in midair. Zhou escaped the crash which killed 11 Chinese delegates because his security team, sensing danger, had put him on another plane.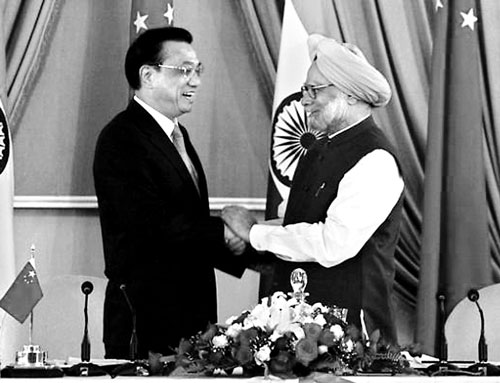 Chinese Prime Minister Li Keqiang meeting India's Prime Minister Manmohan Singh in New Delhi. Pic courtesy Chinanews.com

At the Bandung conference, the presence of China gave the newly independent states the courage and confidence to take on the colonial powers. Although, cold war politics drew China towards the Soviet Union, Beijing gave moral support to the Afro-Asian solidarity movement which later came to be known as the Non-Aligned Movement – with India working closely with China.

But relations between the two countries took a turn for the worse, when the Himalayan region border dispute between the two countries degenerated into a major war. The dispute was the legacy of British colonialism in India, just as the Kashmir dispute that has pitted India against Pakistan was. The so-called McMahon line which the British drew to mark India's border was not acceptable to China. Zhou wanted to solve the dispute in keeping with Nehru's Pancha Sila principle. But the great Indian statesman resorted to filibustering, provoking China to send troops across the McMahon line and occupy what it insisted were territories belonging to China.
The war took place against the backdrop of India allowing political asylum to the Dalai Lama and other dissidents who rejected China's sovereignty over Tibet. Following this war, India, for a long period, had regarded China as an enemy. In fact, India's nuclear weapons programme was largely aimed at countering the threat from China, which tested its first nuclear device in 1964.

In December last year, neither country marked the 50th anniversary of this conflict. For India, there was no rationale to celebrate a military defeat. China, on the other hand, made it a low-key affair because it did not want to harm ties with India. Despite such goodwill, little has changed over the two countries' position on the border dispute in the past five decades. However, on the positive side, the growing trade between the two countries has kept the guns silent. Trade between the two countries which stood at US$ 5bn in 2002 had jumped to US$75bn in 2011.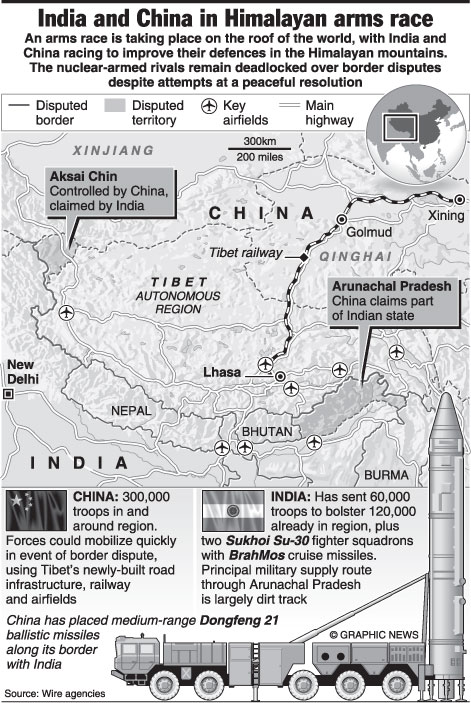 With China becoming India's biggest trading partner, Beijing's new territorial policy towards India has been that if the border problem cannot be solved, it should be temporarily put aside.

This policy saw the resolution of last month's border crisis which arose after New Delhi charged that Chinese troops had intruded into Indian territory in the Ladakh region.

When India's diplomatic protests failed, the Manmohan Singh government moved Indian troops to within 300 metres of the Chinese position.

Ahead of Prime Minister Li's visit to India, the Chinese troops withdrew and the two sides amicably solved the latest border crisis. It is believed that the two countries are now negotiating a Border Defence Cooperation Agreement to preclude similar incidents.

This cooperation-amidst-confrontation policy is what makes China prosper. Understanding this policy or China's mastery in diplomacy and power games is no easy math. It requires a knowledge of advanced political calculus. In this policy, China tries to neutralise threats from its political enemies through trade. After trapping the enemies in the trade net, it takes calculated measures to weaken them while bolstering its own defence capabilities. According to ancient Chinese wisdom, one should not take the eyes off his rival even when he makes the courtesy bow at the start of a martial art encounter.

India and the United States, the other enemy state in the conventional sense, are not unaware of the Chinese moves. They too take countermeasures to check China's growing power. But they lack China's mastery. Yet, in this game, China appears to be winning. It has become the biggest power in the Indian Ocean, which India tried to dominate not so long ago. Adding to India's woes is the Maldives' apparent shift towards China.

Last year, the Maldives scrapped a deal with an Indian company that was managing the Male international airport. Notwithstanding the Mohammed Waheed government's flirtation with Beijing, the United States is apparently enticing the Maldives to sign a Status of Forces Agreement (SOFA), which may allow the setting up of a military facility or a lily pad, ostensibly for training the Maldivian troops in that country. Needless to say, the US presence in the Maldives will be a check on the Chinese naval presence in the vast Indian Ocean.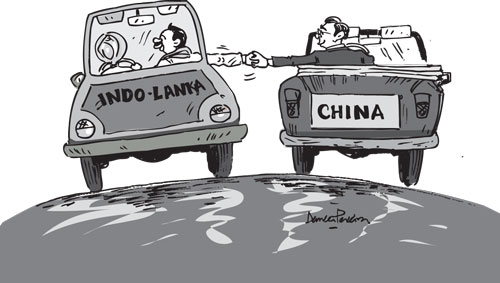 It is in this context that the visit of the Indian prime minister to Japan this week assumes so much significance. For India, the visit was of strategic importance because the two countries were expected to boost not only trade but also defence cooperation. It was only last year that Japan's nationalist Prime Minister Shinzo Abe called on India, Australia and the US to form a "Democratic Security Diamond" with Japan to check China. Though India has not openly expressed support for this security diamond, it has not spurned the idea. Obviously, China is not happy with India's growing security ties with Japan. This is because China has locked horns with Japan over the disputed Diyaoyu/Senkaku islands in the East China Sea.

Piqued by Japan's closer ties with India, the People's Daily, the Chinese Communist Party's mouthpiece, this week lashed out at Japanese politicians, terming them as "petty burglars" on China-related issues.

"In the development of Sino-Indian ties there are several divergences and contradictions. Some countries see these differences as an opportunity to provoke dissension. China and India have great vision and great wisdom…. And India's wisdom lies in dealing with ties with China in a calm way, undisturbed by internal and international provocateurs," a PTI report quoted a People's Daily article as saying.

China wants India to become a friend or remain neutral in the new cold war between the US and China. Washington's strategy towards containing China – or its Pivot-to-Asia policy -- is to surround it. It has well and truly done it with US military bases or "lily pads" in Japan, South Korea, Australia, Guam, the Philippines and other south-east Asian nations. Washington wants India also to be part of the noose around China and has bolstered defence and nuclear cooperation with New Delhi, which in turn has felt that China has surrounded it with its necklace of pearl or a series of Indian Ocean sea ports being built in South Asia with Chinese aid. But finding loopholes in the noose, China has made inroads to Central Asia and strengthened defence ties with not only Central Asian countries but also with Russia and Pakistan.

This week's visit to China by President Mahinda Rajapaksa has also raised some alarm in Indian and US security circles. Among the agreements China and Sri Lanka have penned is one on security cooperation in countering terrorism and protecting each other's sovereignty and territorial integrity.

Although Sri Lanka's External Affairs Minister G. L. Peiris took pains to explain that the agreement should not be a cause for concern to anyone and was not at the expense of any other country, New Delhi is so naïve not to see a security threat in the increasing Sri Lanka-China defence ties. Last year, China's Defence Minister Liang Guanglie came to Sri Lankan on a five-day official visit. Also last year, Sri Lanka conducted a massive joint military exercise on its east coast with the participation of troops from China, Pakistan, Bangladesh and the Maldives. Such high frequency security cooperation has prompted India to take countermeasures such as building the biggest air strip in Tamil Nadu.

The developing scenario is a far cry from the balanced foreign policy which Sri Lanka followed since independence. In 1962, when the Sino-India war took place, Sri Lanka was able to play a key role in bringing the conflict to an end because neither belligerent wanted to spurn its peace moves. But today, Sri Lanka is fast plunging down the precipice to be swallowed in the whirlpool of the new cold war, apparently not knowing how to balance its foreign policy.

---
---
Add comment

Comments will be edited (grammar, spelling and slang) and authorized at the discretion of Daily Mirror online. The website also has the right not to publish selected comments.

---