---
Other than pious homilies, a concrete plan has still not appeared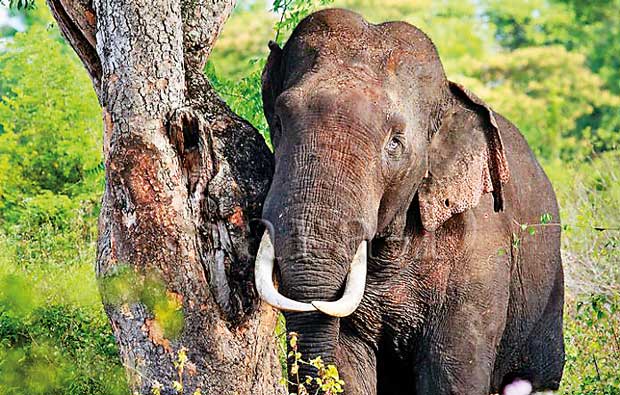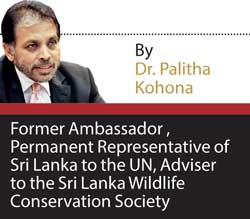 A magnificent tusker, Dala Poottuwa to the villagers, has been callously brought down for possessing two magnificiant tusks.

Its killers hacked the tusks off, possibly while the tusker was still alive, breathing its last. A few days later, another tusker, which had only one tusk, a genetic abnormality, was killed. A nation was appalled but, other than uttering pious homilies, a concrete holistic plan has still not appeared to prevent the occurrence of similar incidents.

230 or more elephants are killed annually, mainly by humans wielding guns. The proposed long jail terms for elephant killers will be welcome by the conservation community, but its implementation would be an elephantine challenge.

The world's largest land mammal, the elephant, is struggling to avoid following the same path to extinction as its ancient relative, the woolly mammoth. Sri Lanka which was home to thousands of these gentle giants is now confronted with the challenge of conserving a critical population of elephants to ensure their continued existence.

The island's elephant population, some consider the Sri Lankan elephant to be a distinct sub species of the Asian elephant, decreased dramatically since the advent of the colonial era largely due to human actions, wanton killing to clear land for commercial agriculture and sport..

Historically elephants and humans managed to coexist on the island despite its relatively small size, without posing too much of an existential threat to each other. In fact animals were protected under Royal decree as evidenced by King Nissankamalla's edict carved on stone for all to see.

There was ample range land, in the jungles that were designated catchment areas for the thousands of tanks (reservoirs) which dotted the dry lowlands of the country and in the forested highlands. Small numbers were captured to be trained for temple ceremonies, as beasts of burden and for warfare. History records that Sri Lankan elephants were prized overseas as beasts of war.

Legend has it that Hannibal's war elephants which crossed the Alps and threatened Rome itself came from Sri Lanka. But elephants were never hunted for food or slaughtered for sport.

There is no evidence that they were poached for their tusks although tuskers were captured for domestication. In fact, elephants were revered for their ceremonial role carrying the sacred relics of the Buddha. They were also the symbol of Lord Ganesh, the elephant headed Hindu deity.

Then came the uncontrolled slaughter of elephants during the colonial period, especially during the years when Britain ruled the whole island. Large swaths of the highlands were cleared to make room for vast coffee and, later, tea and rubber plantations.

Elephants that did not move away were ruthlessly gunned down. The British colonial government offered a bounty for killed elephants. Killing animals for sport became a colonial past time and elephants suffered the most in Sri Lanka.

Major Skinner, Samuel Baker and Major Rogers are on record as having killed thousands of these giants. Numbers dwindled dramatically. Later an expanding human population kept encroaching on to elephant habitats. Today the remaining elephants, estimated to number around 7,000, face an uncertain future as humans continue to occupy their rangeland, despite laws that establish protected areas for forests and animals.

Annually around 230 elephants die at the hands of irate farmers whose crops they have raided. Many humans are also killed by marauding elephants. Recently, an Ukrainian trying to take a selfie with a wild elephant met an untimely end due to his folly.

Sri Lanka, as a small country with a growing human population, has done well to preserve even 7,000 elephants in the wild. Anyone visiting the annual elephant gathering at Minneriya in October, when hundreds of wild elephants converge on the massive Minneriya tank bed for reasons yet to be explained fully, might be excused for thinking that the number is much higher.
Legend has it that Hannibal's war elephants which crossed the Alps and threatened Rome itself came from Sri Lanka. But elephants were never hunted for food or slaughtered for sport

If the country is to conserve it's threatened elephant population effectively, it is important to give much more attention to raising popular awareness, starting with children, to the fact that elephants are a unique national asset and an icon that could make a significant contribution to the earnings of many, including the villagers who now suffer from their depredations, especially through properly managed tourism.

The villagers must be made aware of the need to conserve the elephants for their own benefit and they must be given a stake in elephant conservation. The Sri Lanka Wildlife Conservation Society (SLWCS) has made a pioneering effort in this respect in the Wasgamuwa region.

Tourists, both local and foreign, who flock to watch elephants, generate considerable earnings for a range of entities, including local hoteliers, guides, vehicle drivers, unscrupulous agents, and park rangers.

The way this income gets distributed must be managed so that isolated villages which come into daily contact with these animals also benefit from it. The tourist trade which earns much from elephant safaris must make an effective contribution to preserving the forests, elephant habitats and improving access roads.

Some part of this income must also be allocated to take care of the rural population that lives in the proximity of elephant habitats, through the construction of better roads, safer schools, health facilities and houses and the provision of electricity. A policy approach that was successfully employed in Zimbabwe ensured the flow of a part of the tourist dollar to village upliftment.

The current practice, also pioneered by the SLWCS, of alleviating immediate physical threats to villages by erecting electric fences around national parks and around isolated villages should continue.

Electrified fences seem to be effective but elephants have been observed dropping logs on fences to destroy them to enable them to walk across to inviting fields. Using solar and wind power for generating electricity in isolated areas could help to reduce long term costs and also to provide electricity to villages.
Elephant corridors should be identified and migration routes set aside. No permanent human intrusions to these should be permitted. British Columbia, in a much praised experiment, has built tunnels and over passes for its wild life to cross busy highways. Whether Sri Lanka could afford such an approach on its own is questionable.

Where possible human intruders in elephant habitats must be relocated. Where this is not possible, they must be encouraged to grow crops which are less attractive to elephants to minimise the human elephant conflict.

The SLWCS has begun providing farmers with orange, lime, and similar plants which the elephants do not fancy, which have a ready market and which are suited to the natural environment. Intense agricultural training and marketing facilities are essential if these measures are to succeed. Similarly, farming milk cows has been tried out as cattle and elephants seem to coexist in the same areas.

I have seen Mura buffaloes grazing alongside elephants. But for cattle farming to succeed, villages will need access to better veterinary services and collection facilities for the milk. One must not underestimate the reluctance to change age old farming habits. The business community needs to be engaged as active partners. But given the right financial incentives, farmers seem to readily adopt new crops. One cannot but notice the speed with which farmers switched from traditional rice to nontraditional vegetables such as cabbages, beans, carrots and cauliflower in the Matale district.

It is also a must to provide safe transportation to isolated villages where deaths occur due to confrontations with elephants. Stationing of small buses in such villages should be considered. Today walking from remote villages to schools and hospitals poses a considerable risk due to the presence of elephants. The SLWCS' Elefriendly bus service which provides transportation to isolated villages in the Wasgomuwa area, especially to the school children, is a popular innovative idea.
The tourist trade must be brought under better regulation. The current habit of roaring four wheel drive vehicles chasing after herds of elephants must stop. During a recent visit to Eco Park, I witnessed with dismay, a small family unit of elephants including a totally disoriented little baby, surrounded by noisy all terrain vehicles and the desperate efforts of the elephant family to escape this ring of torment. I have seen the same disturbing story being repeated in the ocean by the whale watching flotilla.

Tourists themselves should be provided information on the human elephant conflict, elephant conservation measures, and better and more sensitive ways to observe and photograph these magnificent animals and the dire need for funding. This could be done at the point of entry to the parks and in the hotels in the area. In the US, park rangers provide a briefing on the do's and don'ts at the entry to parks. Volunteers could be needed to provide briefings accompanied by visual presentations to tourists staying at hotels. The information centres at the parks need to be more user friendly. The embarrassingly decrepit one at Wasgamuwa is desperately in need of a makeover.

A difficult but essential measure might involve restricting the numbers entering a park at at any given time. There is room for increasing entrance fees. The type of vehicle used in the national parks must be regulated and driver training must be improved. On a recent trip to Minneriya, I watched a convoy of five vehicles ferrying a group of Chinese tourists bogged down in the mud. They could not be extricated till after dark.

Existing laws must be firmly enforced, especially those relating to the preservation of forests and wild life. The behaviour of visitors to parks must be monitored by rangers. New tougher laws may need to be enacted. National parks are not the places to engage in loutish behaviour.

Importantly, the conservation community must continue to develop links with elephant research institutions and other similar entities elsewhere in the world. Tried and tested best practices must be adapted to local needs. International researchers must be encouraged to work with Sri Lankan counterparts. The modest SLWCS research facility in Wasgamuwa, popular with foreign volunteers, is a commendable initiative.

The proper conservation of Sri Lanka's wild elephant population, an invaluable national asset, deserves priority attention. Elephants will remain a major tourist attraction contributing millions of dollars in forex earnings. The haphazard (mis)management of this unique asset could damage our tourist industry, including due to the negative image generated by the human-elephant conflict.