---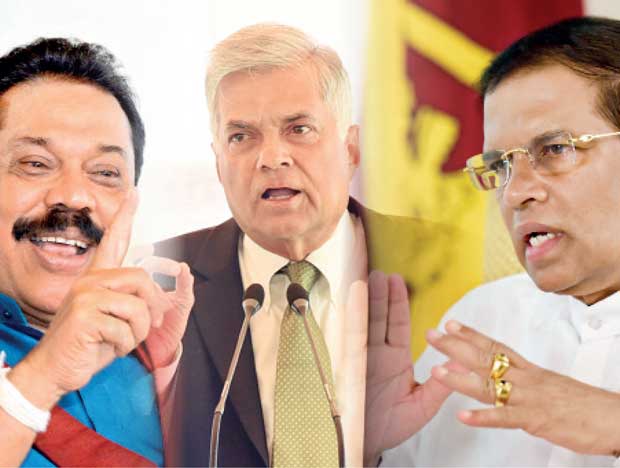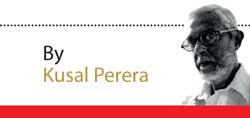 The dawn of the New Year 2017 saw former President Rajapaksa's public claim that he would oust the "Yahapalanaya" government of the conjoined parties this year, to munch along with. He left political circles excited about how and when he would take over if he did, when he chose a breakfast meeting with foreign correspondents to say he would work towards a change of government.

PM Wickremesinghe wanted to make Rajapakasa sound a "joke" and said he would allow Rajapaksa to do whatever he wanted to, while he (PM Wickremesinghe) was away in Switzerland for a week. But Rajapaksa wouldn't want anyone to go joking about his effort to change government in 2017. "I will not do it when Wickremesinghe is away." Rajapaksa was quoted in the media. He said he was no "backstabber", hinting he was no Sirisena-Wickremesinghe-Chandrika type who schemed his ouster and said the "change" would not be far away either.

State Minister Priyankara Jayaratne's resignation immediately after Rajapaksa's forecast of a change of government came as a bolt from the blue for many. Jayaratne claims there are many who would follow him. There's already speculation of a cabinet reshuffle immediately after the 2nd anniversary of Maithripala Sirisena's swearing in as President in January 9, 2015. Since then, for President Sirisena, the past two years were all about scheming and manoeuvering to gain control of the SLFP.
Obviously, arm twisting, threats and offers of positions in the government cannot go on for long without any serious change in the balance of power within the party. With LG elections and 3 PC elections lined up for 2017, President Sirisena has much to lose and Rajapaksa not so much.

Rajapaksa still remains a troublesome influence to the Sirisena leadership with his hold on the rank and file of the SLFP. President Sirisena's problem lies with his heavy focus on holding onto co-habitation in government with a SLFP that in its rank and file is "anti UNP". All his manipulations are thus restricted to parliament and national politics. He seems to believe, projecting himself as good a Sinhala Buddhist leader as Mahinda Rajapaksa, with his sympathy towards Gotabhaya Rajapaksa and continued promise of standing with "war heroes", that he would draw wide Sinhala support for himself. He seems to want himself projected as a Sinhala Buddhist President, compassionate towards minorities. This has not brought any dividends to him as calculated by his closest confidantes.

His duplicity in siding with security forces, presenting them as war heroes and refusing independent investigations into war-related crimes with international legal assistance, his denial of release even for youth detained without any charges, while also calling for reconciliation and ethnic harmony, has only made him another Sinhala political leader for the Tamil constituency. With no determined and aggressive political campaigning to convince the South of the political need and importance of addressing war crimes and related issues, within the Sinhala constituency, he is seen as one who compromises with "separatist" Tamil politics. He thus has no real and strong political platform to work on in overcoming the Rajapaksa factor.

As General Secretary (GS) of the party, Sirisena was a very inactive party organiser, who could not develop his authority within the party. It was therefore President Chandrika Kumaratunge and subsequently Mahinda Rajapaksa as leaders who dictated terms in the party. During his tenure as GS of the party, he wasn't even relevant in signing nominations for elections. With the SLFP contesting within the UPFA in all elections in the past 2 decades, it was the UPFA General Secretary who was important.

Meanwhile over the past decade, as leader of the party and as the Sinhala leader who won the war, Rajapaksa changed the entire structure of the SLFP at local level and especially at local government level. He brought in new players as Pradeshiya Sabha and Urban Council Chairmen, who were not directly affiliated to the party, but were directly linked to his projects. This new breed of local politicians were actually "village thugs" who were made strongmen in the areas. Promoted as his direct link, they were provided with numerous projects to earn extra income. With such political affiliation with Presidential power under Rajapaksa, they were able to intervene in the daily lives of the local people. They therefore don't come directly under party discipline though representing the party and are now difficult to be replaced by the party.

They still remain loyal to Rajapaksa, thus making it difficult for the Sirisena leadership to decide on LG elections. This is a proven fact, each time President Sirisena consents to postpone LG elections. That reluctance to hold LG elections is now openly exhibited with the Chairman of the De limitations Commission saying it was the government that wanted its report delayed. He is proven right with the two government nominees in the Commission refusing to sign the report and Minister Faizer Mustapha refusing to accept the report without their signatures.

This hesitance and lack of confidence in going for LG elections has had its impact on parliamentary politics too. The SLFP that has over 86 out of 95 UPFA MPs, is now being asked why they should be under a UNP leader in government. They are being told the SLFP is being belittled and discredited under a UNP rule that is deciding all policy in the government. These are not just arguments made for the sake of political advantage, but a situation most Cabinet, State and Deputy Ministers experience in their day to day work. This contradiction is also now in the open with all SLFP provincial council members voting against the Development (Special Provisions) Bill, an important bill the PM was eager to have.

It seems Rajapaksa was working towards this conflict. It was apparent he was taking over the campaign against the government into his own hands when he came on stage at the Ratnapura rally in early October last year. That rally saw Rajapaksa at his fiery best, for the first time after his two defeats asking the large crowd if they wanted a SLFP government. He told the cheering crowd that it was no big game for him to shift allegiance within this parliament.

What allows Rajapaksa to challenge this government is not just numbers in parliament and his hold on local SLFP politics. It is the inability and uncertainty in this government in giving direction to where it wants to lead the country. Lack of clear policy is very much evident every time the PM makes a new "development strategy" statement. Perhaps the third by now, since the August elections. The government, despite its "development rhetoric", has not been able to get any serious project off the ground. Not even the much-hyped Megapolis programme.

The inability of the government in bringing back discipline and efficiency to the policing of society, in the delivery of justice on corruption cases and in creating employment for youth especially, has eroded all hopes of a new change. With increasing allegations against Ministers of the present government on mega corruptions, this government now looks chaotic in office. All it had achieved was, going back to Chinese projects that Rajapaksa began, now with very difficult conditions to adhere to.

All this is not what President Sirisena could claim for the SLFP as worthy of defeating Rajapaksa. It is this trap from which President Sirisena cannot wriggle out. He has publicly vowed to hold on to this co-habitation that he cannot justify in front of the SLFP in which he is not the accepted leader outside the parliamentary group. What then can be his next move? Everything now leads to a compromise with Rajapaksa, perhaps on his own terms. That seems the confidence Rajapaksa exhibits, when he says he would form a government of his choice.