---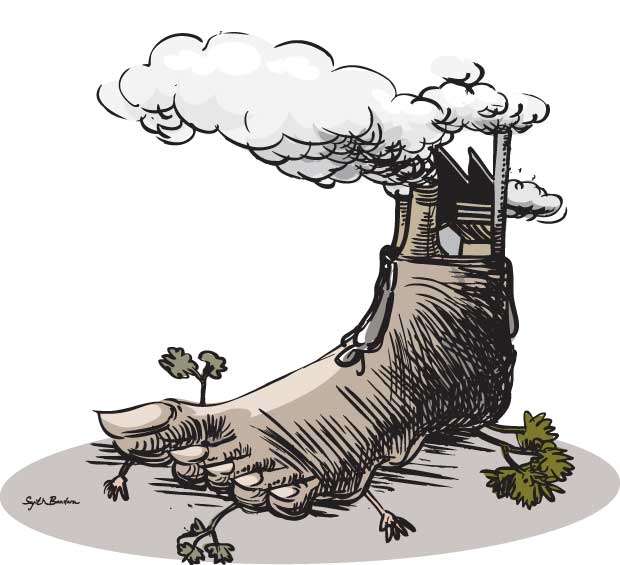 Sunday April 22 was World Earth Day – a day of vital importance for the people of Sri Lanka and worldwide because our failure to act as responsible citizens and get involved in the battle against global warming could lead to catastrophic consequences. It is a sacred duty. Thus all religions and all races need to work together though the United States President Donald Trump -- predictably unpredictable and facing charges ranging from being a cad and a conner to collusion with Russia -- is still insisting that global warming is a Chinese hoax. But most world analysts believe that Mr. Trump and his changing polices are turning out to be as grave a danger to the world as climate change.
This year's Earth Day theme and thrust are to encourage people to reduce their plastic consumption and use more eco-friendly materials. It's the planet we live on and is home to more than six billion humans and millions of animals and plants. But with climate change and pollution endangering Planet Earth, people are being urged to help protect the fragile environment.
The Earth Day's aim is to encourage people to do things that will benefit the Earth. These include recycling more, using solar power or planting trees.
More than a billion people are reported to have celebrated the day. They included environmental campaigners Leonardo DiCaprio and Emma Watson. For 2018, the Earth Day theme is End Plastic Pollution.
According to environmental activists, here are some simple steps we could take to reduce plastic consumption: Use reusable bags when we go shopping, where possible do not use plastic straws with drinks, buy boxes instead of bottles – cardboard is easier to recycle than plastic, use reusable bottles and cups, and pack meals in reusable containers instead of disposable plastic containers and sandwich bags.
According to the Cable News Network (CNN), five good and bad things have happened since the last Earth Day.
We lost one rhino subspecies -- the world's last male northern white rhino died last month, leaving the future of the subspecies in doubt.
At 45, the rhino Sudan was fraught with age-related issues and multiple infections. He lived in the OI Pejeta Conservancy in Kenya surrounded by armed guards who protected him 24 hours a day.
Rhinos are targeted by poachers, who believe that rhino horns cure various ailments. Experts say the rhino horn is becoming more lucrative than drugs.
We are saying goodbye to plastics - Plastic-free supermarkets, a deposit on plastic bottles and jail time for using plastic bags. These are just some of the efforts leaders are making to curb the world's plastic addiction. In February, the first plastic-free supermarket aisle was unveiled in Amsterdam. Shoppers there are buying their groceries in new compostable bio-materials and traditional materials such as glass, metal and cardboard.
Plastic straws, drink stirrers and cotton swabs could be banned in Britain as part of the government's plan to eliminate all avoidable plastic waste by 2042. The British government is also planning to introduce a deposit on plastic bottles, requiring customers to pay an extra tax when buying single-use drink containers that will be refunded once those items are recycled.
CNN says it met a punk-rock turtle - The good news is that CNN discovered an Australian river turtle with a distinctive green punk-rock hairstyle, two spikes under its chin and the ability to breathe through its genitals. The bad news is, it may not be around for long because it's on a new list of endangered reptiles.
Leonardo DiCaprio to the rescue - There are only 30 vaquita porpoises left on Earth, and Leonardo DiCaprio wants to save them. The vaquita, which looks similar to a dolphin, calls the Gulf of California home. The species has become endangered due to illegal fishing. The actor and activist used Twitter and Instagram to get his millions of followers to sign a petition asking Mexico's President to take immediate action to protect the endangered vaquita porpoise. The President was all ears.
We hope innovative, enterprising Sri Lankans also will find and promote new ways to protect planet earth and the government needs to encourage them by providing tax concessions and facilities.