---
Mr. K..Godage's (KG) article on the "Wasa Visa Nethi" project which appeared in the Daily Mirror of 19 March 2016,. highlighted a number of issues related to the use of agrochemicals. In this piece I wish to indicate the actual facts related to the use of agrochemicals.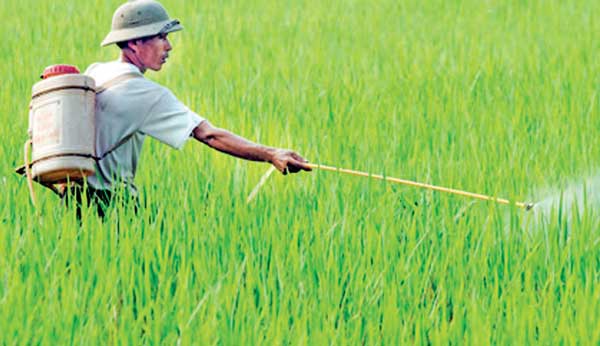 According to Mr. Godage, the President has banned all agrochemicals. President Maithripala Sirisena did not ban chemical fertilizers, insecticides and weedicides. However, in an Extraordinary Gazette Notification, in Dec. 2014, Registrar of Pesticides Dr. G. A. W. Wijesekara banned the use or sale of Glyphosate, Propanil, Carbaryl, Cholopyrifos, and Carbofuran which are pesticides.

Fertilizers are agrochemicals. There are different types of fertilizers such as urea, Superphospahe (TSP), Muriate of Potash. (MOP). Most of the present day farmers use these fertilizers and the govt. is giving it free, perhaps indicating that application of fertilizers is essential to get a good yield. As KG indicates, in those days cultivators applied leaves, cowdung , katu pohora etc. to crops.

The plant nutrient content of these is very low (for example N in kola is not even 2%) . During that time only one paddy crop was cultivated per year (in Maha) and the yields were around 1000 kg per hectare. The nutrient requirement of the indigenous paddy varieties (eg. pachaperumal) cultivated was relatively low. But at present the yields are high (around 4000 kg/ha) thanks to the researchers at the Batalagoda Rice Research Institute who developed better rice varieties.
These varieties need more nutrients. Hence farmers apply inorganic fertilizers because they contain more plant nutrients. KG is of the view that chemical fertilizers (it is more correct to say Inorganic fertilizers – IF) ) are causing harm to poor farmers and humans (?) particularly in third world countries.. It is difficult to understand why IF are causing harm to those in the third world countries. If inorganic fertilizers are toxic it should be harmful to all humans.
While KG says that IF are causing harm, he also says " chemical fertilizers have no doubt increased yields with food being an absolute necessity for our existence " KG also says that fertilizers (probably IF) have become absolutely necessary for agriculture. But he also says that "organic fertilizer is the best solution to counter the threats to our soil, the environment and to life itself. So should we use Inorganic fertilizers or organic fertilizers.?

Most of the plant nutrients (N,P and K) in inorganic fertilizers we apply are absorbed by plants. Some, such as phosphates and potassium (K) get adsorbed by the soil. Some of the urea gets volatilized. If the soil is sandy some nutrients can get leached and pollute water. This can be prevented if inorganic fertilizers are applied judiciously based on soil tests. Organic matter (OM) improves the soil physically and supply the micronutrients such as iron, manganese etc.
and inorganic fertilizers supply macro nutrients such as N,P, K etc. required by plants in large amounts. Hence it is better to apply both organic fertilizers and inorganic fertilizers.

Reducing use of inorganic fertilizers

Promoting methods of reducing use of IF is important. It will reduce the expenditure on importing IF. Use of IF such as urea can be reduced considerably if atmospheric N is made use of. The atmosphere has nearly 80% N which can be used by making use of N fixing plants. Unfortunately we are not making use of plants such as Blue Green Algae which fix N from the atmosphere.
N fixing bacteria in root nodules of legumes also fix N but here again we are not effectively making use of these bacteria. Most of the soils in the dry zone are rich in potassium and hence use of MOP can be reduced. Fertilizers need to be applied on the basis of soil analytical data. In this way it is possible to reduce fertilizer imports.

Pesticides

Pesticides also need to be considered in the project on Wasa Visa Nethi. Very often crops are attacked by insects. We hear about Brown Plant Hopper attack in paddy. There are other pests too. In Sri Lanka, in the 18th century the coffee crops were devastated by a fungus Hamelia vastrarix. In such a situation we are forced to use an insecticide.
In addition to insect pests, fungi, virus and weeds also affect crops. Weeds compete for water, sunlight and nutrients with crop plants. Weeds also harbour numerous pests and diseases and also tend to reduce the quality of the harvest. Hence, control of weeds is extremely important to obtain a good harvest. Hence, appropriate pesticides have to be used.

I am not at all promoting the use of pesticides. A colossal amount of money is spent to import pesticides. Hence it would be desirable if alternatives which are non-toxic are used. A number of compounds, such as nicotine, pyrethrin and azadirachtin which have pesticidal properties, are present in some locally grown plant species. For example, Azadirachtin can be extracted from Azadirachta Indica (Kohomba) and Pyrethrin from Pyrethrum.
Development of pesticides from those local plants and promoting their use in controlling pests, would reduce costs and also provide employment. But, no effective action appears to be taken to promote the use of these bio-pesticides by the relevant authorities except holding workshops and seminars. Research and development on the use of biopesticides and eco-friendly measures need to be done.
If we are to sustain yields we will have to use agrochemicals unless alternatives are made available. Some farmers mix pesticides assuming that it will give a better effect.
Such practices would cause environment pollution. Hence, the relevant institutions need to develop a good mechanism for enforcing the regulations on the use of pesticides, adopting FAO guidelines.. An effective agricultural extension system needs to be in place so that the undesirable effects of pesticides are reduced. According to some researchers certain pesticides may affect the human endocrine and immune systems and are carcinogenic.
Therefore, long-term environmental and health impacts of agrochemicals should be researched in depth . Promotion of alternative pest control strategies such as application of bio-pesticides indicated above and integrated pesticide management (IPM) need to be done. Better agronomic practices such as crop rotations also would reduce the need to use agrochemicals.
- The writer is a former Professor of Agronomic at Ruhuna and Rajarata University and he has a Ph.d. from the University of London.