---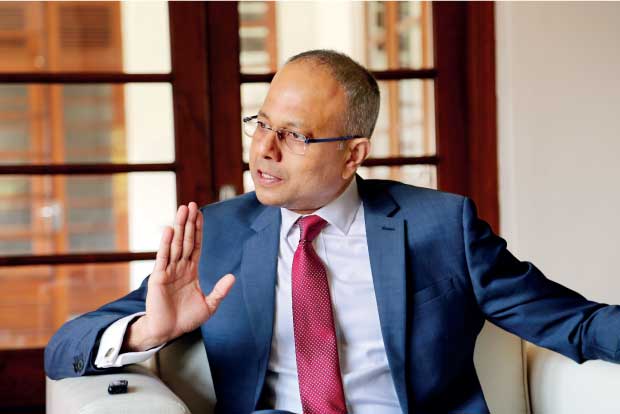 Law and Order Minister Sagala Ratnayake, in an interview with the Daily Mirror, spoke about the progress of the investigation into various cases and the plans for reforming the police and current politics. Minister Ratnayake, who is also the Chief of Staff of the Prime Minister, said that the Government would serve till 2020 without an iota of doubt. Following are excerpts of the interview done with Ratnayake.
---
No change of Government in the offing
Counter Terrorism Act replacing PTA will be in Parliament
We have to break through a lot of barriers when taking action
FCID sent 92 files, but they are complex cases even for AG
Cases related to financial crimes take eight to ten years
Some people may construe different stories for political ends
No imminent threat from international terrorism to SL
Underworld activities are operated by kingpins living overseas
Underworld commands a lot of money power
---
Q How do you view the performances of this Government in terms of the implementation of the law and order?
We made a lot of progress. The war is over. It's a peacetime Government. Emphasis has moved from the armed forces and it is now on the police. It took a while for the previous rule took to be adjusted. It didn't develop the police. We started developing the police because they are the ones meant to maintain law and order.
We have done a lot. But, it doesn't get highlighted. That is media. Media is free. Anybody can report anything. There is technology on the other hand. Anybody can take a video and post it on social media. There are no media ethics in social media. Media is reporting all the things- things damaging the Government and the shortcomings of the Government. We allow anything to be reported. We must also have our media campaign. That is one of our weaknesses. We aren't having a media campaign that can sufficiently say what we have done. We started with the Police Commission.
I don't interfere with anything that has to do with the police. I will guide them. People ask me various questions. I will ask the police what the situation is. Somebody can tell, "I was treated unfairly.' I can ask the police how you have handled it. When the reason is given, that's it. If I feel that someone has been unfairly treated, I ask them to look at it again. I will ask a higher-up to look whether it has been handled correctly. This may be the smallest thing somebody can meet on the road ask me, or complain to me about on the public day. Or if somebody tells me of an issue over the telephone, I can verify the authenticity of the call and follow it up.
The police are the primary organization that is responsible. We aren't working alone. We are working with the border security agencies such as immigration and customs.
I have two public days-one is for police officers who have grievances and the other for people having grievances against the police. We have increased the salaries of the police by 40 percent. They are officers who work round the clock. They don't get overtime nor a proper leave schedule. We started a transfer policy and promotion policy. we want the service to be completely independent.
Q What are the plans for reforming the police?
We are experiencing a professional reform process. We have got Sir Hugh Orde, the Chief Constable of the Northern Ireland Police. He reformed the police after the conflict there. We have commissioned him to work on this. He has presented his initial report. It's a several –year implementation process.
Q Earlier, the legality of the Financial Crimes Investigation Division (FCID) was questioned. Later, the Prime Minister said a Serious Frauds Bureau would be set up in keeping with the British system. What is the progress?
The legality of FCID was questioned. The Supreme Court ruled in favour of the FCID. That's it. There's no issue regarding it. We want to go for the Serious Frauds Bureau. There are different views regarding it. We are drafting the framework. We want to finish the Counter Terrorism Act and bring in the Police University Act. These will come in by February, next year to Parliament. Afterwards, we are planning to bring the framework on the Serious Frauds Bureau to the Cabinet.
Q How does the Counter Terrorism Act differ from the present Prevention of Terrorism Act (PTA)?
The PTA was brought in view of the LTTE conflict. It catered to a local terrorist problem. What we are now looking at is international terrorism and the possibility of any situation affecting Sri Lanka. Also, you have to cater to the possibility of local terrorist groups raising their heads. Even that is being taken that into consideration and so is Human Rights. We are trying to bring in certain rules that will be implemented in two or three years with the modernization coming in. With technology coming in, the detention period will be reduced.
Q How serious is the threat of international terrorism, particular in the context of reports that some locals have also joined the ISIS?
I don't think we have a serious threat. But, preparedness is one of the things absolutely essential for a country. The police are the primary organization that is responsible. We aren't working alone. We are working with the border security agencies such as immigration and customs. We have a plan that we keep developing further. We don't see an imminent threat. But, we are always alert.
Q Do you see signs of radicalization here?
No. Not to the extent that we fear an act of terrorism.
Q As for action against corruption, President Maithripala Sirisena was critical that cases weren't pursued properly. He even said that corruption took place after this Government assumed office. How do you respond to such criticism?
I think the progress is quite good. There are two units in the police handling this. The FCID has sent to the Attorney General 92 files. It's a lot even for the Attorney General to handle. We have filed indictment on 13 out of them. There is sentence in one of them. These are complex cases. It has cross border implications. Mutual legal agreements have to be called upon. It takes a long time. These are cases that date back to a long time ago. Most of the banks have to return to their databases and provide us with information. We have to obtain a lot of legal clearance to get to all of them. After that, it is a long process for the Attorney General to go through all of them. If you take the trend of cases in Sri Lanka, especially financial crimes, it takes eight to ten years in the legal system.
On the other hand, the CID is also handling some cases. They have handled 38 of special cases. Of them, we are currently inquiring into eight. We have submitted 17 to the Attorney General.
Q What are the challenges you face?
One is that they are cross border. It involves mutual legal assistance between the countries.
Q Do you face the same challenge in pursuing action against the money laundering involving Litro Gas Chairman ShalilaMunasinghe?
Those are also serious challenging cases if the Taiwan Bank is also having difficulties.
Q How are you proceeding with the cases?
I am sorry. We aren't still able to talk much about that case. If something is reported in court, I may be able to talk about it. I am not going to talk if it is going to affect the investigation, hence I prefer not to talk about it.
On the other hand, the CID is also handling some cases. They have handled 38 of special cases. Of them, we are currently inquiring into eight. We have submitted 17 to the Attorney General. The Attorney General is ready to respond to two of them. Eleven of them are in court. That is a lot of progress.
The cases handled by the CID are related to some of the journalists as well. When we assumed power, even the initial complaints and evidence had been destroyed. We had to recreate everything. We started from below zero. We have come a long way. On the Keith Noyahr case, we have made headway. On the Ekneligoda case, we have come to kidnapping level. If we can find the body, we can charge for murder.
With regards to the Lasantha Wickramatunga case, we know the modus operandi, the idea about what has happened. If we get to know about the users of six telephones, the case can be solved.
Q Earlier, the Anti-Corruption Secretariat referred complains to the FCID. It is done now by the Inspector General of Police (IGP). Why was it abolished?
The Anti- Corruption Secretariat didn't come under the Law and Order Ministry. It came as an independent organization .There was an influx of complaints as we came in. That was set up temporarily. We have now come to the normal flow of things. I think it was extended to about four terms. I am not sure about the exact amount. It was discontinued because it was no longer required. The CID is functioning firm.
Q There is concern that the IGP prioritizes cases on political basis. Can that happen?
No. In the CID, there is a framework to see what they can get. There has to be a criminal angle to it. If there is no criminal angle, it will be sent to a different unit of the police. Even if it has a criminal angle, but the value is not high, it will be referred to a different investigation unit. It works on that framework only.
Q How do you face pressure from your colleagues to speed up certain cases?
Everybody is impatient about the corruption cases of the previous regime. We assumed power saying that we will investigate them and subject those responsible to the law. The due process has to be followed, though. We can't do what the previous regime did to Sarath Fonseka. We promised the people that the due process will be followed. The law is the same for the smallest person as well as for the biggest person. People can construe different stories for political gains. I can assure you that there is no difference.
Q The President recently said that he was under attack by some UNP MPs because he appointed the Bond Commission. How fair is his criticism?
I didn't listen to the President's speech, to be honest. But, I know we have a very good working relationship with the President. If you look at the President, the Prime Minister and me, we all are politicians. We may make certain speeches from a political perspective. But, we have a very good working relationship. The National Government has worked well for the country and its people. We have been able to bring stability. We have good discussions. Some can call them arguments. It is important for the country to go forward.
Q Has the relations between the UNP and the SLFP strained?
I can assure you that the National Government will continue up to 2020. It is good for the country if it goes beyond 2020. The decisions to be taken at election times can't be predicted right now. There will always be people who don't want to see this happening.
Q In recent times, there has been a surge of underworld criminal activities. It happened mainly after the new Government assumed power. Some say they enjoy state patronage. What is your response?
I want to tell you it is absolutely not. That is what happened previously. They used the underworld to sort out their political problems. They used the underworld to do what the state machinery couldn't do. We have no patronage. I started a war against organized crimes and drugs. For that we formed a range. That is the highest unit that the police has. It is headed by the senior DIG of the Special Task Force (STF). We have mounted surveillance. We have made tremendous progress. These things are getting reported more than ever.
We have identified most of the leaders or kingpins. Many of them are overseas. There is one or two operating locally. Those abroad are running their operations from overseas. We are now closing in on them. There are two in the Middle Eastern countries. The authorities are helping us to get them. Very soon, we will be able to extract them from these countries.
Q What are the barriers hindering operations being sped up?
They are quiet good at what they do. They have an unprecedented amount of money-power. We have to break through a lot of barriers. They make people corrupt. The information process is a lot slower than usual police activity.
Q Recently, Minister Mahinda Amaraweera mentioned about an underworld group operating in the south. What about it?
We have mounted surveillance. Combating the underworld is not something you can rush in and do. They opt to go in to remand when they chose. Then, they get protection there. There is corruption, even in the prison system.
Drug trafficking is what gives them money. They are not killing each other for fun.
Q Can you rule out that some ruling party politicians are sponsoring these underworld activities?
If they are, they will also be brought to book. I can assure you that as well.
Q There are reports in the social media that a new Prime Minister will be appointed. What is your response as the Chief of Staff of the current Prime Minister?
It is not even fair to ask. There is no such thing at all. There is no discussion of that except rumour mongering.