---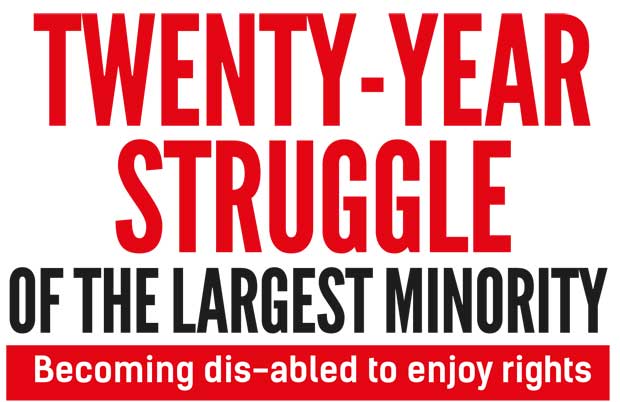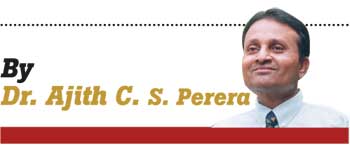 An escalating number of people, for different reasons, suddenly encounter restrictions, either for a short time or for a longer period, in their physical or mental activities. Every one of us is only temporarily able-bodied.
An estimated 20% of the Sri Lankan population are already in this plight. As the Supreme Court accepted in 2011, they form the largest minority of people in Sri Lanka.
In 1996 an Act (No. 28) was established by the Parliament of Sri Lanka to achieve mainly the following two key objectives:
(1). To set out what rights people with dis-abilities are entitled to enjoy and; (2). To guarantee their full enjoyment on an equal basis with others.

Full enjoyment of rights.

For three main reasons this is a high priority.
(a). To our protection against other people who might want to harm, hurt, oppress or marginalise us. (b). To protect our inherent dignity and basic humanity. (c). To enable our participation in daily life as equal members of society.

Twenty (20) long years have passed since then. Where are we today? Where is the reality of the promises we were given of inclusion and equality in January 2015?
Equal rights is for a better tomorrow. Hence this assessment should be the moral duty and legal obligation of all top politicians and decision makers.
The best time for us to open our eyes and check the realities is this week: starting December 3- International Day of people with dis-abilities - and ending December 10- World Human Rights Day.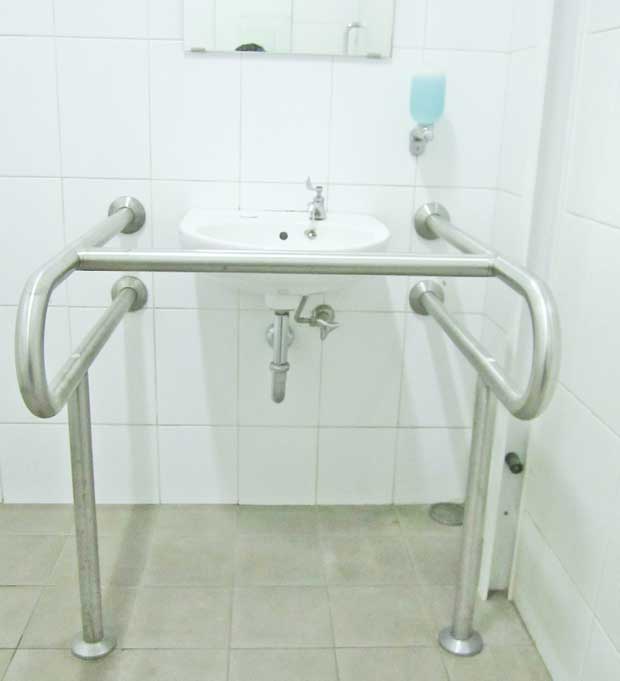 Glimpse of a struggle of the largest minority

1. It took us ten years (2006) to get prepared and get the first set of regulations under this Act approved by Parliament– the only one to-date - To enable people with dis-abilities to have access to public buildings, facilities and services without discrimination BUT they are yet not implemented and many dis-abled children, adults and seniors consequently lack the opportunities of the mainstream population as restrictions:
(i). Prevent them accessing facilities at schools and universities so as to deny from them an education - International Schools and degree awarding institutions with large resources being the worst.
(ii). Prevent them accessing work stations, toilets and other facilities and thereby getting paid employment, even when qualified and driven towards unwanted dependency.
(iii). Prevent Sri Lanka becoming the destination of choice for a generation destined to transform the travel, hotel and tourism industry inaccessible facilities denying new profits.
(iv). Deny some basic, but essential healthcare facilities; properly designed accessible toilets and wash facilities in hospital wards - imperative even for the mandatory rehabilitation prior to discharge; accessible wash facilities for out-patients with severe burns - a stumbling block for burns surgeons; an increasing number of pharmacies that are physically inaccessible and not user-friendly (with high counters).
(v). Hinder almost all normal daily activities in all other avenues (recreation, shopping, travel, etc.) and thereby increasing numbers resembling third class citizens continue to live in the shadows and margins of society with shattered self-esteem.
2. With continuing threat to quality of life, this writer was forced in 2009 in seeking redress to have unhindered access for mobility restricted persons accessing new public buildings and facilities.

The Supreme Court of Sri Lanka gave a landmark order on April 27, 2011.

Yet even after five years, the state and private sector continue to fail to comply; hence this continuing malady.
3. Establishment of a National Council with a National Secretariat followed by monthly meetings; even inter-ministerial meetings (1997 – 2016); establishment of a Human Rights Commission of Sri Lanka (2007 March) - to Promote and Protect the Rule of Law for all - remain caged able to play only advisory roles; establishment of a national policy on dis-ability (2004) and a national action plan after ten years (2014) - only to gather cobwebs.
Despite their establishment, we are still unable to meet the two key objectives in establishing the Act No: 28 in 1996.
4. The UN established an essential Convention (2006 March) on the Rights of People with dis-abilities (CRPD) as a set of legally binding instruments and enforceable obligations on all countries. It came into force on May 3, 2008.

Amidst growing struggles for ten long years - until 2016 February - we failed to ratify this important Convention.
5. Ten more months have passed but nothing productive is emerging.
As this convention calls for, we need progressive realization of its provisions, instead of red-tape as a disability rights bill that has already been delayed 10 years. Short term action is imperative-until a properly enacted Disability Rights Bill is brought in.

A good start - low cost and feasible

(i). Adopting this convention is good economic sense as when physical and social obstacles are eliminated dis-abled persons are empowered to live upto their optimum potential enabling them to become productive employees, entrepreneurs and consumers, along with everybody else.
(ii). A change of perceptions focusing ability within dis-ability is an essential investment to project the positive image and improve the situation. Awareness raising as per Article 8 and its preamble, for States to recognize the valued contributions made by persons with disabilities, do not need legislations or extra costs.
(iii). Government now has a binding legal obligation to fulfil the requirements of the UN Convention.
The 2017 budget proposals should be made the ideal place to start. It is also the last chance to rectify grave omissions.
Its Article 4.3 stipulates: To CLOSELY consult with and ACTIVELY involve People with dis-abilities in decision making processes and developing policies, concerning issues related to them. Therefore, I propose:
1. Budgetary allocations running into several million additional rupees to be passed for improvements of the physical infrastructure facilities of State and private sector in fields such as education and health, Acland House and Mumtaz Mahal and, introducing light train facilities to upgrade lifestyles and add a clause to make it mandatory that (Perhaps also include Lanka Sathosa Outlets) all these works comply with the Supreme Court order SCFR 221/2009 of 27 April 2011 enabling physical access.

I propose: Fines for non-compliance, which could be used to establish a new fund.

2. Government must get funds from people who have funds. None can justify why those unemployed due to permanent major dis-abilities and those terminally ill should be equally taxed!!
They are much worse off than even the seniors, as travel and medical costs alone are extremely high. They are the people who make best use of the internet to pay utility bills, channel doctors, etc. but are now asked to meet a telecom levy enhanced to 25%.
The total benefits they receive far outweigh additional outgoings. Why rob poor Peter to pay Paul? Like in other countries we do not ask for financial incentives but appeal the generated monthly income through our own investments with registered banks and financial institutions, be made totally tax-free, to prolong our survival.
3. The Budget's focus is on human development; BUT are dis-abled persons not human beings to be overlooked like this?
From clause 326 onwards the empowerment of youth and women are talked about BUT nothing is included about the youth and women with disabilities. IT being an employable skill, facilities at 3500 schools (clause 93) should afford opportunities for children and adults with dis-abilities; those with extra-ordinary skills amongst them (clause 97) should be further supported with the proposed Rs. 2,500/- monthly grant.
4. Smart Classrooms (clause 92) should become accessible class rooms to extend the 13 years of mandatory education and higher education EQUALLY to dis-abled students.
5. Like price regulations for selected medications, exorbitant escalating charges by hospitals on pre-determined routine medical tests and rooms along with fees by doctors, must also be subjected to a maximum amount.
6. Budget must enforce introduction of laws and effective implementation from January 2017 to ensure that urban physical infrastructures; public facilities and services under the new Megapolis agenda end-up accessible, regardless of the degree of ability.
The wake-up call
It is amazing why even the vociferous joint opposition (SLPP), JVP, JNP, TNA, joint front of the civil societies the late Most Venerable Sobitha Thera gave birth to - every one of them - continue to remain as deaf, dumb and blind towards the dis-abled - the country's largest minority!
Justice delayed is justice denied and, in this case, loss of profits, a better tomorrow and the country's good name too!
The final reading of the Budget 2017 is on the eve of Human Rights Day – the Judgement Day for the dis-abled people of Sri Lanka. All members of Parliament have a moral duty to actively support them - that includes the heroic soldiers - in getting these proposals (No. 2 in particular) included in the Budget before passing it.